Budget Savvy Diva is Clumsy – Part II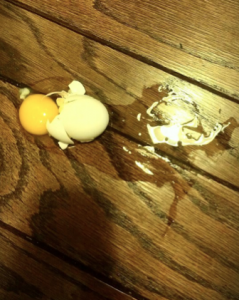 One SUPER fun fact about Budget Savvy Diva is that I am clumsy.
But it is more then just being clumsy…
I am clumsy only when I am carrying food, it is the strangest thing.
This poor egg did not have a chance when I took it out of its protective egg crate and walked with it across the kitchen.
Somehow the egg slipped out of my hand  ( I have no idea how – one second I am holding the egg the next it is flying through the air) – I really tried to catch it but alas I was unsuccessful 🙁
Another clumsy moment