Copy Cat Recipe – Starbucks Caramel Apple Spice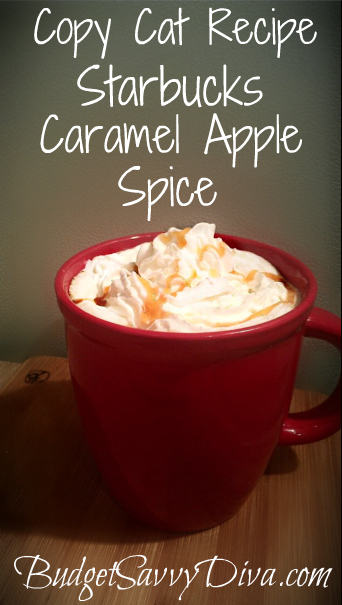 Make sure to PIN this recipe 🙂 Button is right over there


This is my favorite drink from Starbucks – but I am not a fan of the price tag. Below is a recipe that I developed that is spot- on. My husband whom works for Starbucks says it taste just like Starbucks.

Everyday at 1 pm PST/ 4pm EST Budget Savvy Diva posts a NEW RECIPE 🙂 I might miss this time every now or then – but I know you understand
Make sure to follow Budget Savvy Diva on Facebook 🙂
Find Copy Cat Restaurant Recipes HERE
Find Crock Pot Recipes HERE
Find Gluten Free Recipes HERE
Find more Recipes HERE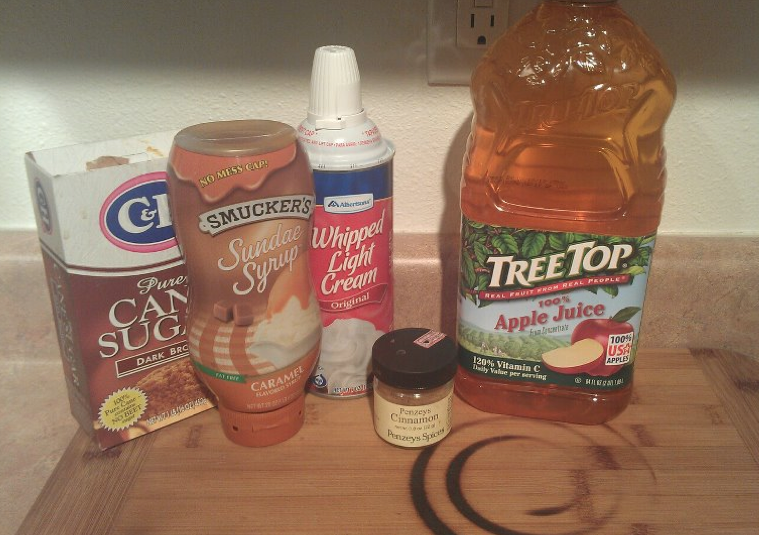 What You Need
Drink:
Bottle of Treetop Apple Juice
Topping:
Whipped Cream
Caramel Topping
Cinnamon Dolce flavor – you can either buy it for $7 at Starbucks or make your own for pennies
1/2 Cup of Water
1/2 Cup of Brown Sugar
About 1/2 to 1 Teaspoon of Cinnamon
What To Do
Make the Cinnamon Syrup. In a pot add all the ingredients ( sugar, water; cinnamon).
Stir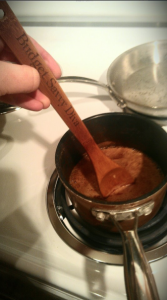 Let the mixture simmer for 5 minutes – it should reduce in half.
While that is cooking in a large stockpot add apple juice – Each serving is 12 oz so heat up as much as you need.
Once the apple juice is heated and the syrup is done – add 3 Tablespoons of Syrup to 12 oz of Juice.
Stir – should look like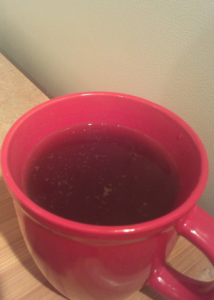 Add whipped cream and caramel drizzle
Enjoy 🙂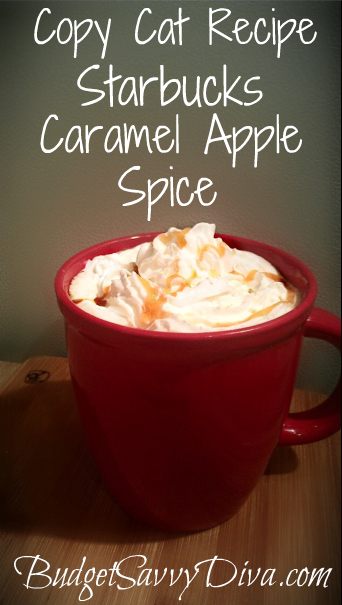 Copy Cat Recipe - Starbucks Caramel Apple Spice
Taste Just Like The Drink From Starbucks but WITHOUT The Price Tag
Ingredients
Drink:
Bottle of Treetop Apple Juice
Topping:
Whipped Cream
Caramel Topping
Cinnamon Dolce flavor - you can either buy it for $7 at Starbucks or make your own for pennies
½ Cup of Water
½ Cup of Brown Sugar
About ½ to 1 Teaspoon of Cinnamon
Instructions
Make the Cinnamon Syrup. In a pot add all the ingredients ( sugar, water; cinnamon).
Stir
Let the mixture simmer for 5 minutes - it should reduce in half.
While that is cooking in a large stockpot add apple juice - Each serving is 12 oz so heat up as much as you need.
Once the apple juice is heated and the syrup is done - add 3 Tablespoons of Syrup to 12 oz of Juice.
Stir - should look like
Add whipped cream and caramel drizzle
Enjoy 🙂