Simple Spinach and Ricotta Stuffed Shells Recipe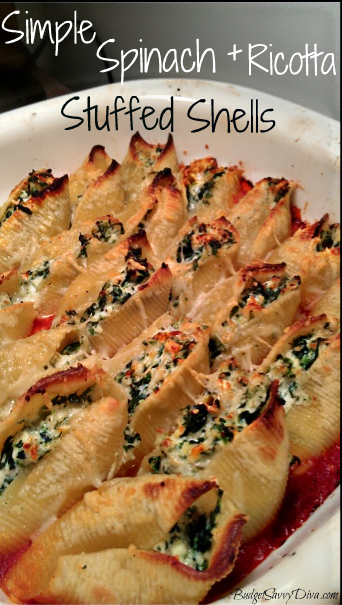 Make sure to PIN this recipe 🙂 Button is right over there or REPIN

So yummy – you can even add cooked sausages to the ricotta mixture to make a full meal.

Everyday at 1 pm PST/ 4pm EST Budget Savvy Diva posts a NEW RECIPE 🙂 I might miss this time every now or then – but I know you understand
Make sure to follow Budget Savvy Diva on Facebook 🙂
Find Copy Cat Restaurant Recipes HERE
Find Crock Pot Recipes HERE
Find Gluten Free Recipes HERE
Find more Recipes HERE
What You Need
25 jumbo pasta shells
2 tablespoons extra virgin olive oil
1 cup pasta sauce
1/2 cup Parmesan
Filling
2 cups frozen spinach, thawed, drained and chopped
2 cups part-skim ricotta
1 egg, lightly beaten
1/2 shallot finely minced
1/2 teaspoon of pepper
1/2 teaspoon of onion powder
Salt to taste
What To Do
Preheat oven to 350
Boil water ( add pinch of salt) – cook shells till they are al dente ( so they are not fully cooked but still edible)
Drain pasta and mix with olive oil.
Place sauce in 8×8 pan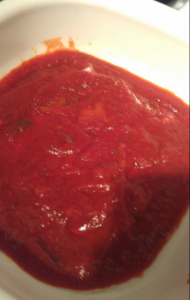 In a medium mixing bowl mix all the filling ingredients + 1/4 cup of parmesan cheese.
Spoon filling into each shell and place in pan and sprinkle the rest of the cheese on top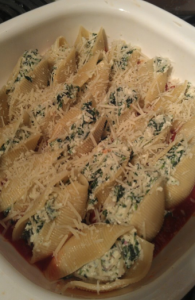 Cover and bake for 20 minutes.
Uncover and bake for 5 minutes till cheese browns
Enjoy 🙂 You can top with additional sauce if you would like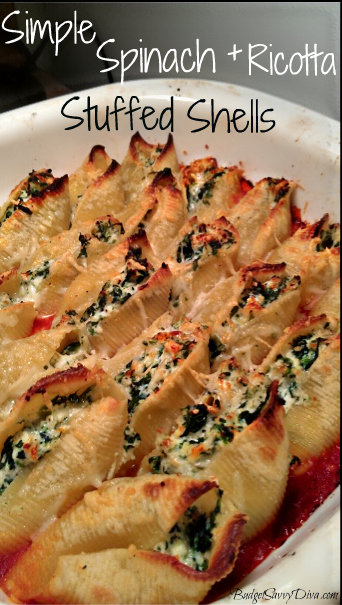 Simple Spinach and Ricotta Stuffed Shells
Ingredients
25 jumbo pasta shells
2 tablespoons extra virgin olive oil
1 cup pasta sauce
½ cup Parmesan
Filling
2 cups frozen spinach, thawed, drained and chopped
2 cups part-skim ricotta
1 egg, lightly beaten
½ shallot finely minced
½ teaspoon of pepper
½ teaspoon of onion powder
Salt to taste
Instructions
Preheat oven to 350
Boil water ( add pinch of salt) - cook shells till they are al dente ( so they are not fully cooked but still edible)
Drain pasta and mix with olive oil.
Place sauce in 8x8 pan
In a medium mixing bowl mix all the filling ingredients + ¼ cup of parmesan cheese.
Spoon filling into each shell and place in pan and sprinkle the rest of the cheese on top
Cover and bake for 20 minutes.
Uncover and bake for 5 minutes till cheese browns
Enjoy 🙂 You can top with additional sauce if you would like
Recipe is adapted from HERE