Baked Teriyaki Chicken Recipe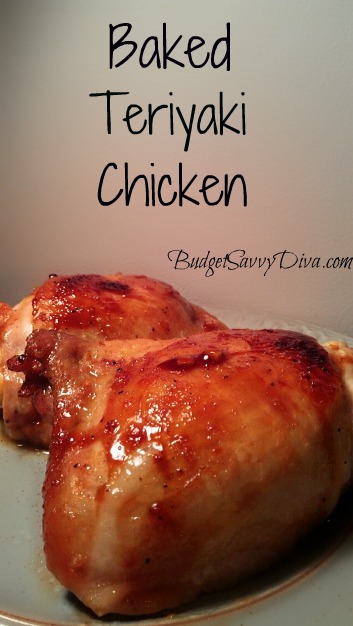 Make sure to PIN This Recipe or Repin 🙂
One of my best chicken dishes. Full of bright flavors and extremely wallet friendly.

Everyday at 1 pm PST/ 4pm EST Budget Savvy Diva posts a NEW RECIPE 🙂 I might miss this time every now or then – but I know you understand
Make sure to follow Budget Savvy Diva on Facebook 🙂
Find Copy Cat Restaurant Recipes HERE
Find Crock Pot Recipes HERE
Find Gluten Free Recipes HERE
Find more Recipes HERE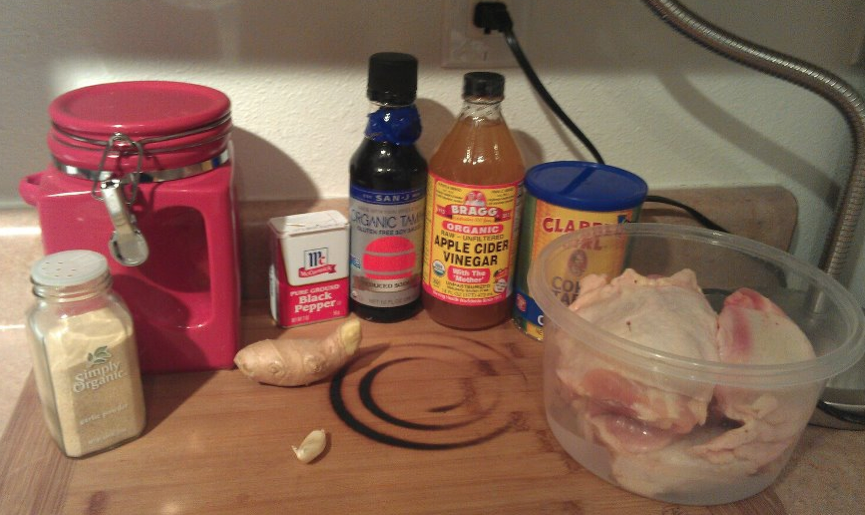 1 tablespoon cornstarch
1 tablespoon cold water
1/2 cup white sugar
1/2 cup soy sauce
1/4 cup cider vinegar
1 clove garlic, minced
1 teaspoon grated fresh ginger
1/4 teaspoon ground black pepper
1/4 teaspoon garlic powder
6  chicken thighs
What To Do
Preheat oven to 425
In a saucepan combine – cornstarch, water, sugar, ginger, garlic powder, vinegar, soy sauce, pepper. Let simmer ( make sure to stir frequently)  – it will thicken a bit.
Place chicken in a greased baking dish and pour half the sauce over the chicken. Make sure all sides of the chicken have sauce on them.
Bake till done. Brush with the rest of the sauce.
Serve and Enjoy
Baked Teriyaki Chicken
Ingredients
1 tablespoon cornstarch
1 tablespoon cold water
½ cup white sugar
½ cup soy sauce
¼ cup cider vinegar
1 clove garlic, minced
1 teaspoon grated fresh ginger
¼ teaspoon ground black pepper
¼ teaspoon garlic powder
6 chicken thighs
Instructions
Preheat oven to 425
In a saucepan combine - cornstarch, water, sugar, ginger, garlic powder, vinegar, soy sauce, pepper. Let simmer ( make sure to stir frequently) - it will thicken a bit.
Place chicken in a greased baking dish and pour half the sauce over the chicken. Make sure all sides of the chicken have sauce on them.
Bake till done. Brush with the rest of the sauce.
Serve and Enjoy
Recipe is adapted from HERE