Easy Chicken Tacos Recipe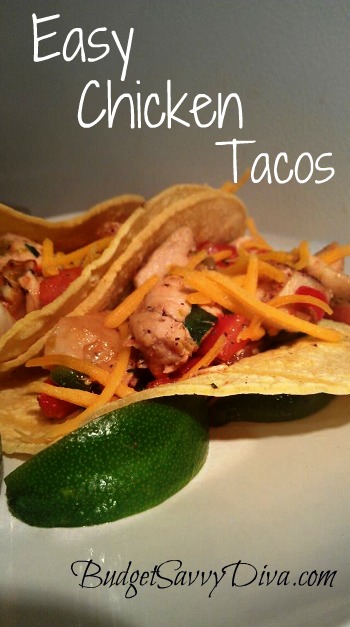 Did you pre-order Budget Savvy Diva's Book Yet ?! Over 40 Recipes
Find out all the details HERE
Make sure to pin the recipe or REPIN IT!
Everyday at 1 pm PST/ 4pm EST Budget Savvy Diva posts a NEW RECIPE 🙂 I might miss this time every now or then – but I know you understand
Make sure to follow Budget Savvy Diva on Facebook 🙂
Find Copy Cat Restaurant Recipes HERE
Find Crock Pot Recipes HERE
Find Gluten Free Recipes HERE
Find more Recipes HERE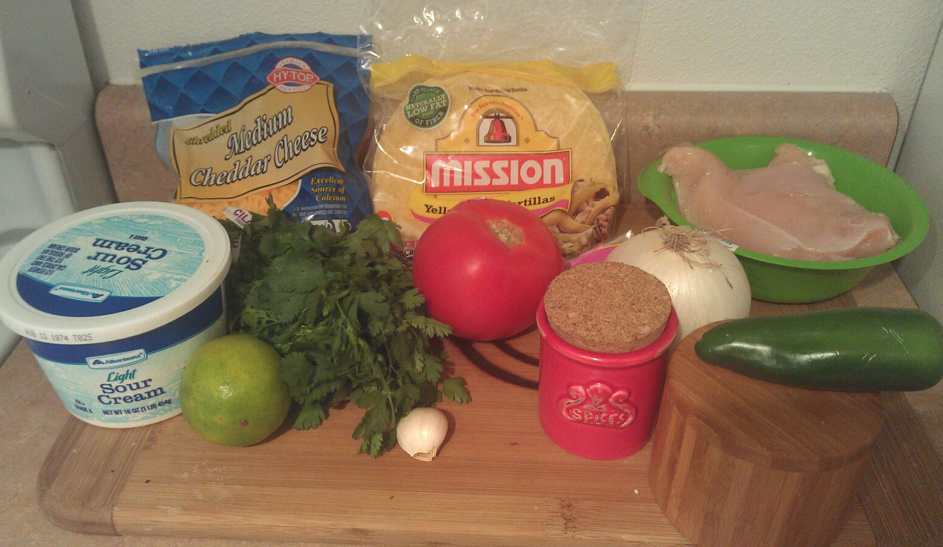 What You Need
1/2 tomato diced
2 teaspoons extra-virgin olive oil
1 pound boneless, skinless

chicken breasts,

cut into chunks
Salt
 pepper
1/2  finely chopped
1 clove garlic, very finely chopped
1 jalapeño peppers, seeded and very finely chopped
2 tablespoons lime juice + Zest
1.5 tablespoons chopped fresh cilantro
corn tortillas, warmed
1/4 cup reduced-fat sour cream ( optional )
2 limes, cut into quarters
Cheddar Cheese ( Optional )
What To Do
Heat oil in a large pan – add chicken. Season with salt and pepper. Once the chicken is cook place chicken aside.
Add onions to the pan – cook till tender. Add garlic and jalapeno – cook for one minute.
Add lime juice and zest and stir.
Add chicken back into the pan + tomatoes.
Stir in cilantro.
Serve and enjoy with lime, tortillas, sour cream, and cheese 🙂
Easy Chicken Tacos
Very Diet Friendly + Gluten FREE but FULL of Flavor
Ingredients
½ tomato diced
2 teaspoons extra-virgin olive oil
1 pound boneless, skinless chicken breasts, cut into chunks
Salt
pepper
½ finely chopped
1 clove garlic, very finely chopped
1 jalapeño peppers, seeded and very finely chopped
2 tablespoons lime juice + Zest
1.5 tablespoons chopped fresh cilantro
corn tortillas, warmed
¼ cup reduced-fat sour cream ( optional )
2 limes, cut into quarters
Cheddar Cheese ( Optional )
Instructions
Heat oil in a large pan - add chicken. Season with salt and pepper. Once the chicken is cook place chicken aside.
Add onions to the pan - cook till tender. Add garlic and jalapeno - cook for one minute.
Add lime juice and zest and stir.
Add chicken back into the pan + tomatoes.
Stir in cilantro.
Serve and enjoy with lime, tortillas, sour cream, and cheese 🙂
Recipe is adapted from HERE