How To Get Rid of Water Spots with Lemon and Wax Paper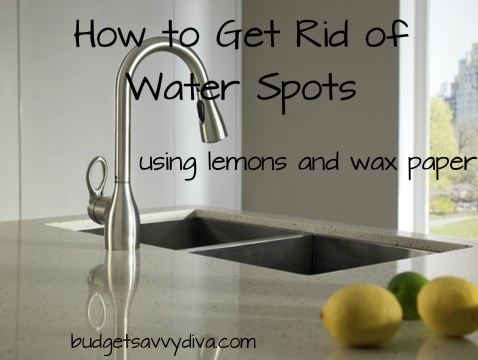 Check out the these other great budget tips:
How to Remove Oil Stains on Clothes
How to Remove Rust Spots on Knives
Use Mayonnaise to Remove Water Marks on Wood
One of my pet peeves is water spots on the faucets in the kitchen and bathrooms. Thankfully, there is a solution to these pesky little things (actually, two solutions!). One, with a lemon, and two, with wax paper. Here's how to remove those unwanted spots pronto!
Lemon to Rid Water Stains:
Cut a lemon in half
Simply rub the open side over the faucets a few times
Rinse and dry with a towel
Wax Paper to Prevent Water Stains:
After cleaning water spots using the above directions, grab some wax paper
Simply rub the waxy (slippery) side over the faucets a few times
The wax repels the water, so no more spots!