Easy Beef Enchiladas Recipe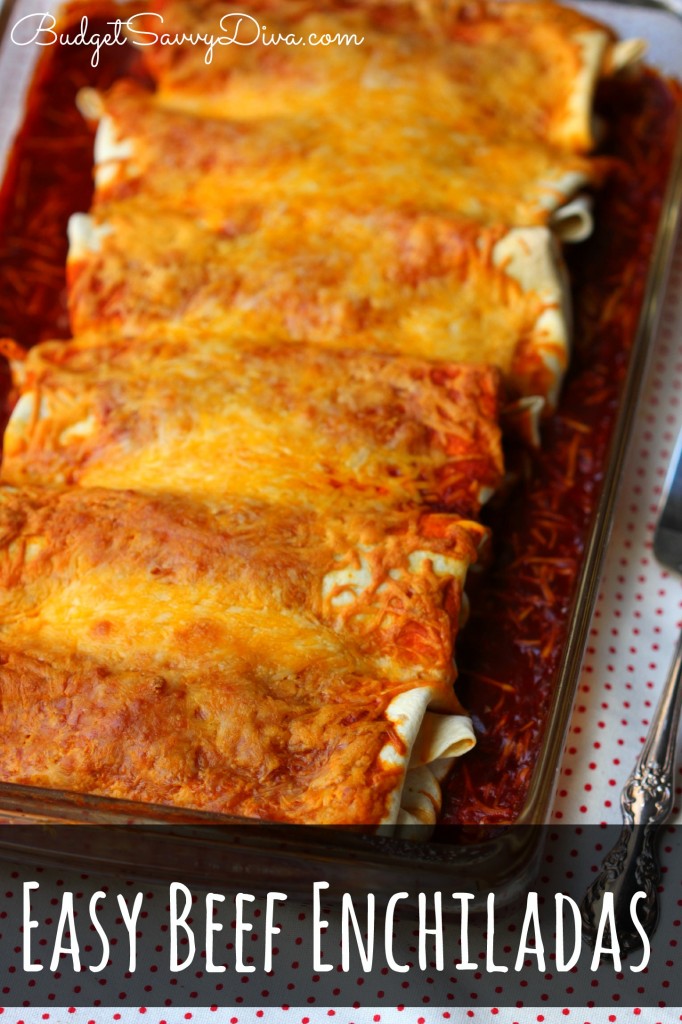 Make sure to REPIN this recipe 🙂
Yep it is another Enchiladas recipe 🙂 We are HUGE fans of Enchiladas for 2 reasons ( which I have talked about multiple times BUT I will say it again) – we love the variety of different fillings you can use
I am trying to talk my dad into making veggie enchiladas but he is not completely sold on the idea
So we make beef and chicken – we went for beef this time simply because I found ground beef on clearance for $2.38 a pound at Walmart ( which is a bargain price for me in Portland, OR ) I am sure y'all get a better price than that — I never seem to save that much when it comes to meat especially ground beef ( which is the main reason I do not do many recipes with ground beef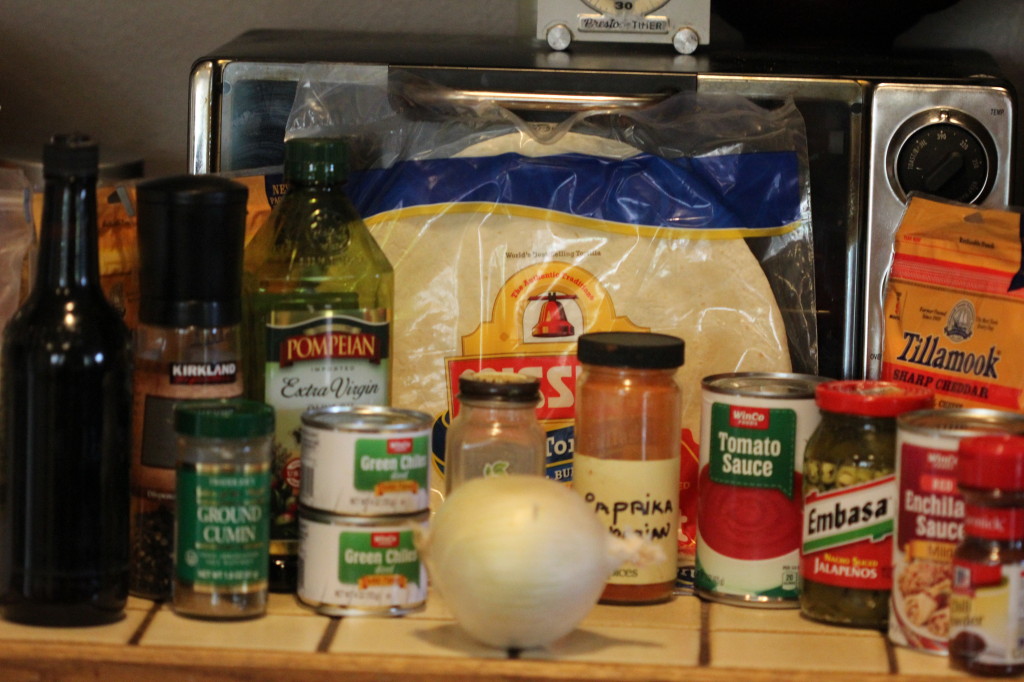 As you should be aware of by now my Dad and I get together one day during the week when we are not busy to cook – we cook between 2 – 6 recipes in one day.
Well sometimes the ingredient picture can become a mess like this
Sigh….. The jalapenos are actually for the jalapenos dip I posted a few days ago 😉 Also one of the cans of green chilies are for the other recipe as well
We also get another gold star for forgetting the ground beef in the picture
Here is my dad cooking the ground beef for the Easy Beef Enchiladas Recipe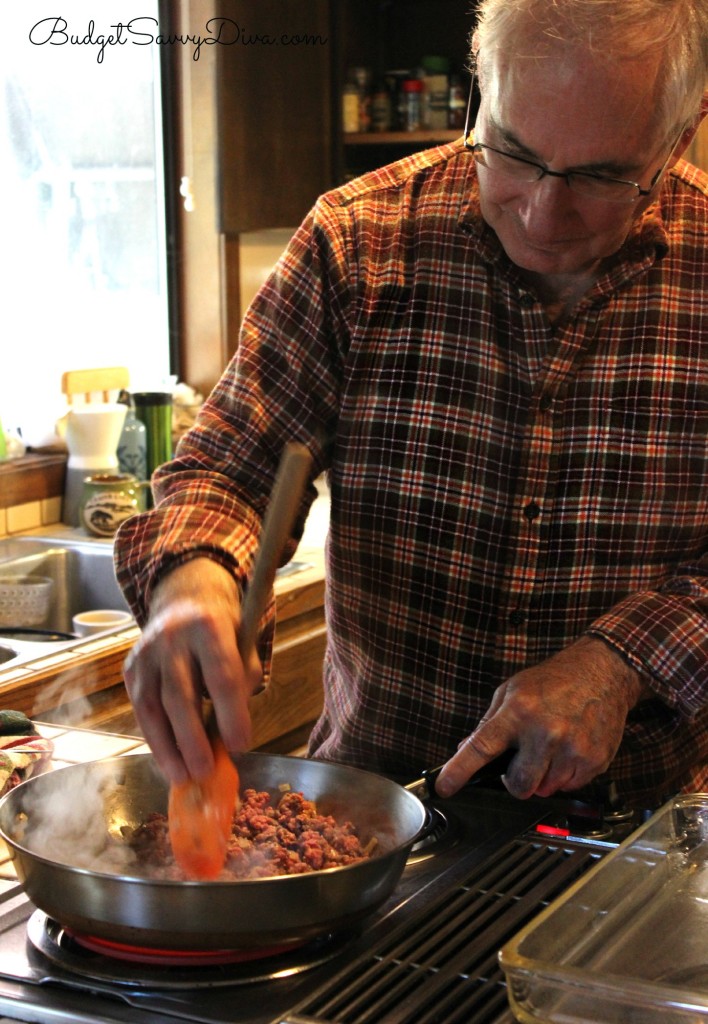 If you would like more enchiladas recipes please make sure to comment 🙂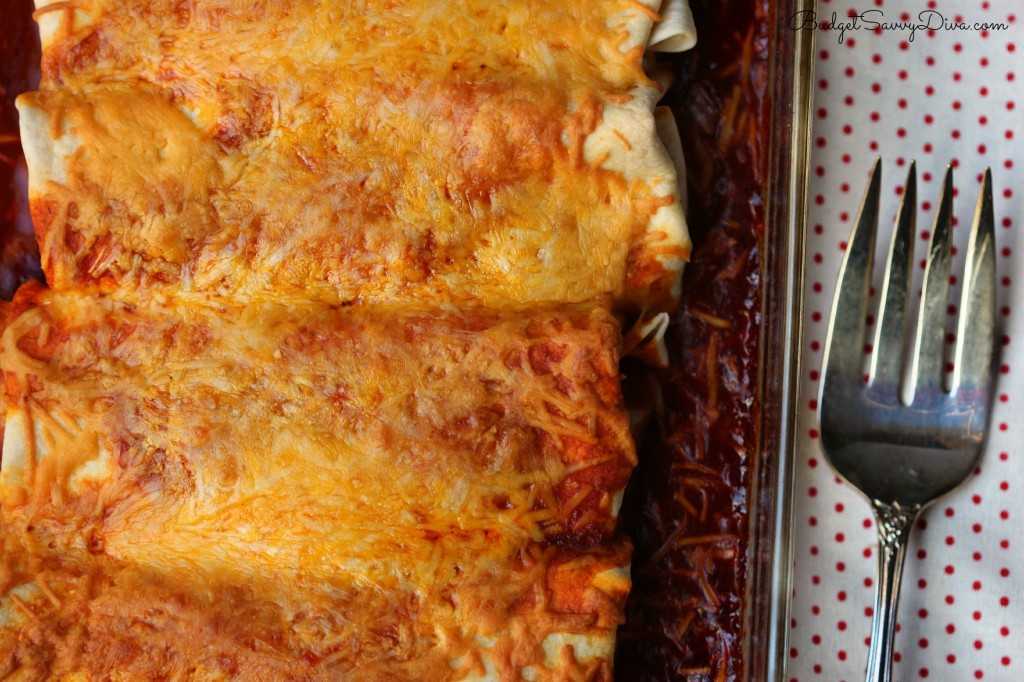 If you do make the Easy Beef Enchiladas Recipe please comment and let us know what you think 🙂
Enjoy!
Easy Beef Enchiladas Recipe
Ingredients
1 pound of ground beef
⅓ Cup of Chopped Onion
1 Tablespoon of Worcestershire Sauce
2 teaspoons of garlic powder
1 teaspoon of chili powder
1 teaspoon of paprika
2 teaspoons of cumin
1 teaspoon of pepper
Flour Tortillas ( you can use corn)
2 Cups of Jack or similar cheese
1 Cup of Sharp Cheddar Cheese
4 oz of green chilies mild ( can)
1 can of red enchiladas sauce
4 oz of tomato sauce ( un-sasoned)
1 Tablespoon of Olive Oil
Instructions
Preheat oven 350 - lightly grease a 9x13 glass casserole dish
In a large skillet - heat oil and add the onions - cook for 8 minutes - add meat
Once the meat is cooked - drain the fat
Add ¼ can of enchilada sauce, chilies, Worcestershire, and seasonings
Take each tortilla and place a handful of jack cheese and one spoonful of meat - roll and place in the casserole dish - once the dish is full pour the rest of the sauce on top and finish with the cheddar cheese
Bake for 20 minutes
Enjoy!