I Am Heading To Skywalker Ranch and Pixar #StrangeMagicEvent #PixarInsideOut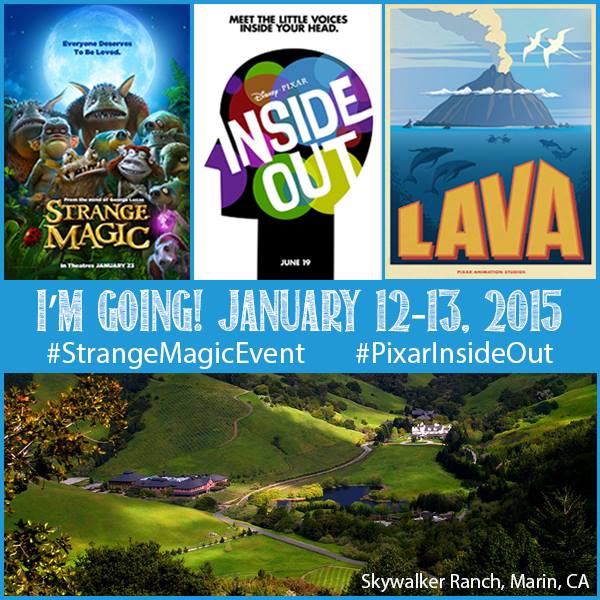 VERY exciting NEWS! I hardly can believe that in a few days I will be on a plane again – it seems like I was traveling only a few weeks ago and here I go again – but when Pixar is involved I will travel anywhere 😉 I will be going with 24 other lovely bloggers
Make sure to following the hashtags – #strangemagicevent #pixarinsideout
I am very excited to announce that I will be heading to San Fransisco on Monday 🙂
I will be going to Pixar Studios and Skywalker Ranch —- yes the Skywalker Ranch ( Lucus Studios) —
If you have not seen my Pixar Video — I went a couple years ago on another media trip
I will be vlogging this trip as well and I will make sure to get as much footage as I can for you guys to enjoy
While I am there I will be going to Pixar for Inside Out — I would say this is the film I am looking forward to most in 2015
Inside Out – Growing up can be a bumpy road, and it's no exception for Riley, who is uprooted from her Midwest life when her father starts a new job in San Francisco. Like all of us, Riley is guided by her emotions – Joy (Amy Poehler), Fear (Bill Hader), Anger (Lewis Black), Disgust (Mindy Kaling) and Sadness (Phyllis Smith). The emotions live in Headquarters, the control center inside Riley's mind, where they help advise her through everyday life. As Riley and her emotions struggle to adjust to a new life in San Francisco, turmoil ensues in Headquarters. Although Joy, Riley's main and most important emotion, tries to keep things positive, the emotions conflict on how best to navigate a new city, house and school.
Here is the trailer for the movie
The next day we will be heading Skywalker Ranch for Strange Magic
Strange Magic, a new animated film from Lucasfilm Ltd., will be released by Touchstone Pictures on January 23, 2015. Strange Magic is a madcap fairy tale musical inspired by "A Midsummer Night's Dream." Popular songs from the past six decades help tell the tale of a colorful cast of goblins, elves, fairies and imps, and their hilarious misadventures sparked by the battle over a powerful potion.
Here is the trailer 🙂
Disclaimer – Disney company is paying for the trip and experiences but all the thoughts and opinions are my own