Christmas Wreath Rice Krispie Treats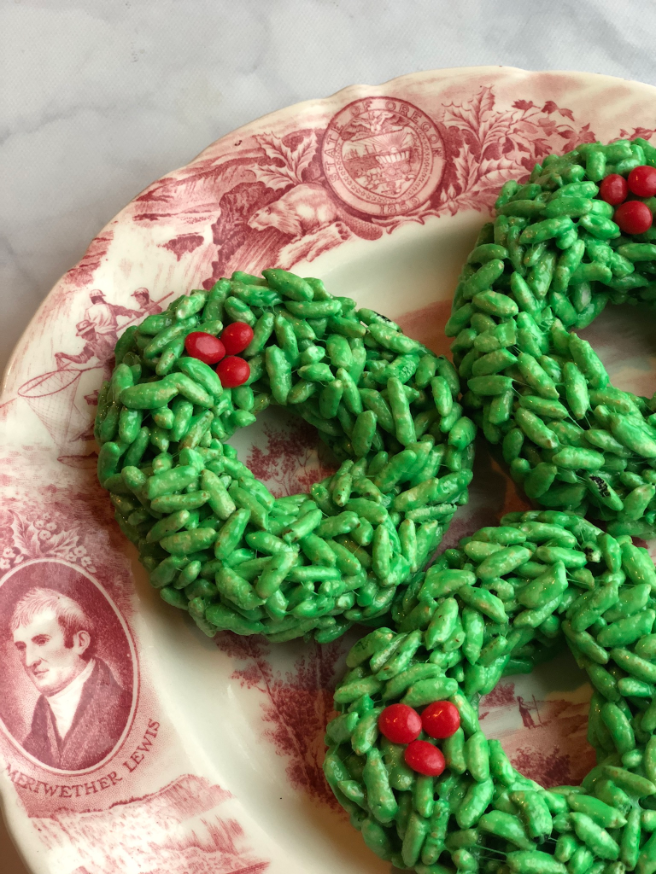 Yesterday was a very special day for us, because we wasted no time jumping into the Christmas season.  We started playing Christmas music and lighting balsam scented candles at Thanksgiving, but yesterday is when I cleared out all of the fall decor and started to bring our Christmas boxes out of storage.
We had a house cleaning day and as part of it we swapped out seasonal decor in the kitchen and living room.  We strung lights and changed out the knick knacks on the mantel and we played Christmas movies while we worked.  As a special treat I decided to make some wreaths out of Rice Krispies.  It's  really easy to shape and make whatever you want out of Rice Krispies.  I used pre-packaged Rice Krispie Treats to make Dia De Los Muertos inspired skulls for Halloween about five weeks ago, and now, I had just the right ingredients to make beautiful, vibrant, green wreaths with red holly accents on my own homemade Rice Krispie Treats.
Ingredients
3 tbs butter or margarine
1 package (10 oz., about 40) marshmallows
OR
4 cups mini marshmallows
1 tsp green food coloring
6 cups Kellogg's® Rice Krispies® cereal
Canned frosting or decorating gel
Assorted candies
These wreaths are more fun and delicious than an ordinary square and they really make things festive.  They are also easy to make!