Easiest Bread Recipe Ever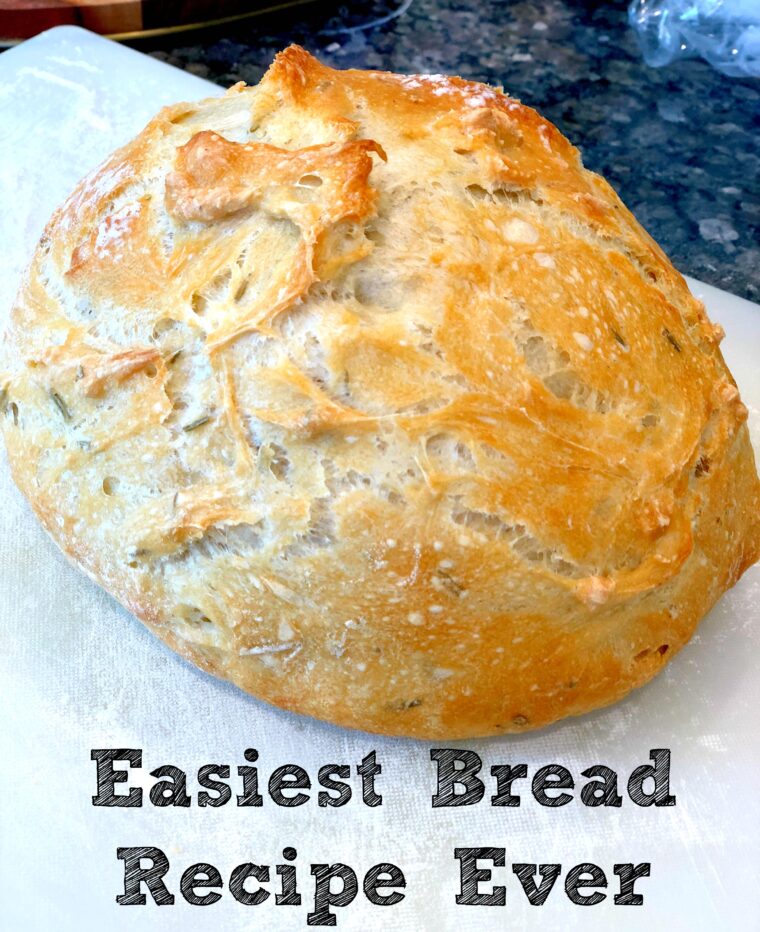 I have been baking this bread for a while now – it really is the easiest bread recipe I have EVER come across – and it is my families favorite. The twins love to eat it without anything on it – simply just a slice!
What I like to do is bake the bread in the morning – we snack on it all day ( make sandwiches, slices for the twins, some toast for me, etc). There is always about 1/4 of a loaf left. Then the next morning I cube up the bread – throw it in a bowl with some olive oil, course salt, pepper and bake it in our toaster oven for about 5 minutes – instant croutons ( seriously some of the best tasting croutons ever!). So that night we throw the croutons in a salad. Then I usually start the next loaf the next day – so we end up making a couple loafs a week.
One option for this recipe that I HIGHLY recommend is adding about 2 Teaspoons of crushed rosemary. It is AMAZING. Back in Los Angeles I use to eat this bread for La Brea Bakery – it was their Rosemary Loaf Bread. This seriously is a copy cat to that!
Now on to the recipe
Easiest Bread Recipe Ever
Ingredients
3 Cups of Flour
¼ Teaspoon of Active Dry Yeast
1½ Teaspoons of Salt
1¾ Cup of HOT Water ( 105 - 110 Degrees)
------
optional - 2 Teaspoons of Rosemary
Flour ( Used Later)
Instructions
In a large bowl add all the ingredients above the optional on the list. Mix well
You want the dough to be a bit wet and sticky
Cover the large bowl with plastic wrap ( I found this to be the best way)
Leave for 18 hours on the counter
Take a dutch oven and place in your oven - preheat to 400 - you want the dutch oven to become hot in the oven
While you are preheating your oven take the dough ( it should have bubbles on the top and should have doubled or tripled in size) and place on a well floured surface.
Roll the dough around in the flour until it is not longer sticky
Dough needs to rest for 30 minutes - I wrap the dough in the plastic wrap I used for the bowl
Once the 30 minutes is up place the dough without the plastic wrap into the dutch oven ( do not grease the dutch oven. Place the top on the dutch oven and bake for 30 minutes
Take the top off the dutch oven and bake for another 15
The bread should be golden brown and let cool for about 30 minutes
Enjoy!