9 Weeks Pregnant With Baby 5 – 5 Babies in 49 Months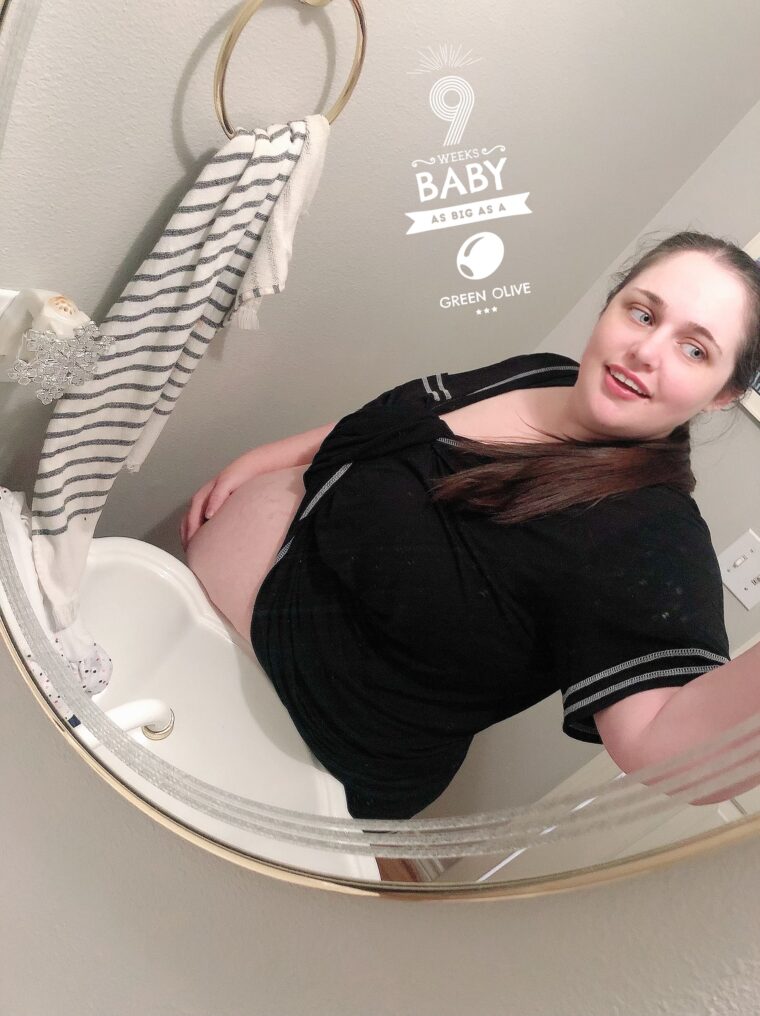 Hello Week 9!
To follow Baby 5's Journey Go HERE.
Where did this week go? We have been trying to potty train the twins hardcore this week since there is no way on this green earth we are having 5 in diapers at one time. The only way that is okay is if you have a TLC show and you have a set of quints. Lawson is getting on board and Gwendolyn is warming up to the idea.
Morning sickness is always around. I basically nibble a breakfast and having a lunch and then nothing till the next day. I really try and eat dinner but I find it very difficult.
Another thing hard about this week is that this is officially the longest I have gone without an ultrasound. I usually having one around week 8 with all the other babies. This time because of COVID it will not be until week 12. I find this has caused me great stress since I am attached and I don't want anything bad to happen. For me the minute I see that line I am in love. I do take comfort that I feel the same like I do with my other pregnancies and my bump is growing. Of course I could ask for one but I really do not want to use resources that other people need more during this time. I have a home doppler that I used a TON with the twins – like daily I was so worried from week 11 – 17 or something like that. Lachlan I used it once – could not find anything and thought he was dead — talk about a panic. Since then I swore I would never try it again.
But the ultrasound is looming and the fact Eric cannot be there hurts. So I am thinking about using a doppler right before to have some peace. But I do not want another Lachlan experience again. I have a couple of weeks to decide.
Watson is such my cuddle buddy. Every pregnancy he is the same. Head on the baby. Once the baby is out – he is over them !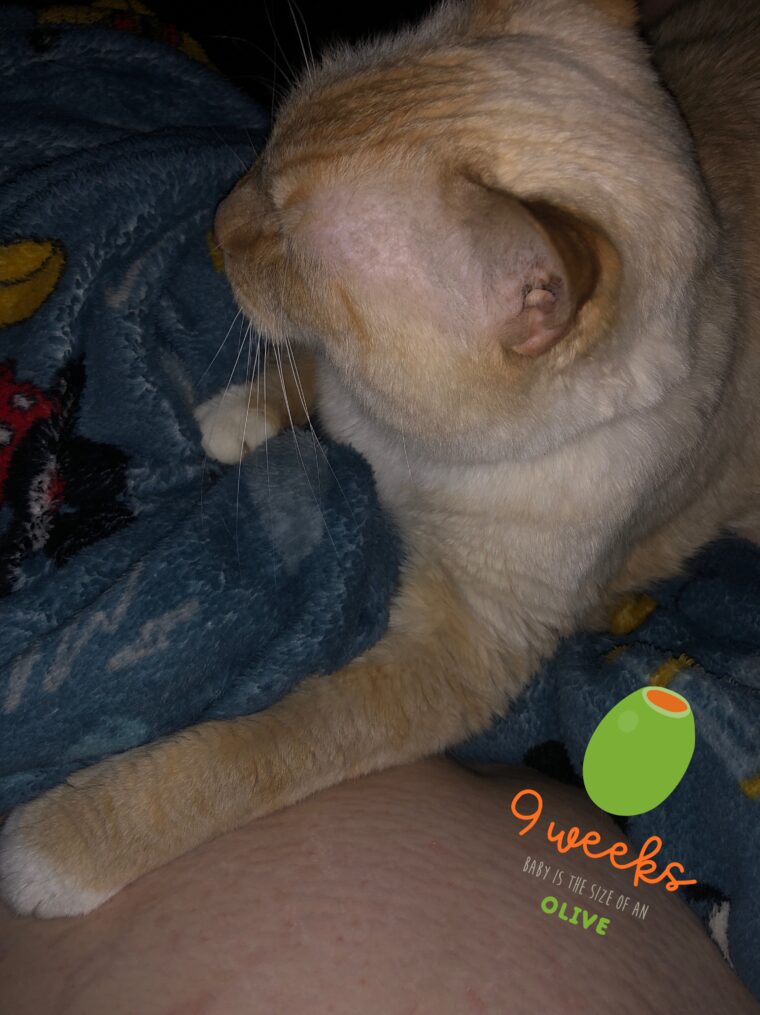 Question Time!
How far along: 9 Weeks


Total weight gain: Lost 9 pounds

Maternity clothes: Trying to find all my maternity clothes from the last 3 pregnancies. I know I put them somewhere. My bump is bumping and I need to find my clothes

Stretch marks: Can you get stretch marks on stretch marks? Just kidding. Kinda. My whole tummy from 4 other babies is a mess. But nothing new yet – it is always during the last strech

Bump: HUGE! I have not told anyone I am pregnant yet. I think it is 3 pregnancies in what 18 months? Lachlan is 17 months and Gwenivere is 6 month so how many months would that be being pregnant enough to make a belly? I have no idea. Basically my bump is huge – I think some it has to do with my umbilical hernia I have as well

Sleep: Sleeping a ton. I think with the 4 under 4 I am just wiped by 6 pm.

Best moment of this week: About a week ago we got the sneak peek results on the baby's gender!

Miss anything: Going anywhere – but that is more Covid then anything else. I need me some Costco

Movement: So I am feeling something. Same thing happened with Gwenivere. Around 13 weeks with here it was like proper kicks. Right now it feels like someone popping a single bubble wrap right where the baby would be

Food cravings: SPICY. That is always a craving for me. I want those spicy Cheetos. Basically anything to cause me heartburn.

Anything making you queasy or sick: Smells. Always smells

Have you started to show yet: Yes. It really is my bump. I measured it a few times and in a week I went up about 1.5 inches this seems to be consistent.

Genders: Yes! But I am waiting for the ultrasound

Labor signs: Nope

Belly button in or out: Out always with my hernia

Wedding rings on or off: On

Happy or moody most of the time: Good Mood

Looking forward to: Planning on telling everyone about the pregnancy. NO one has a clue. I mean who would. We had a baby 17 months ago then had a baby 6 months ago plus add in a pair of little twins. AGAIN this newest pregnancy was not planned and my OB is stumped since my birth control was suppose to be 99% effective.