US Getting Rid of The Dollar Bill – Will Save The Government 5.5 Billion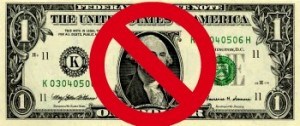 The dollar bill's days may be numbered.
If you did not know – the United States is in the middle of a recession 🙁
Well one real solution is getting rid of the dollar bill all together and replacing it with a dollar coin ( hasn't that been done before to some extent…) but I digress – it is thought that it could save the US government over 5.5 billion dollars over the next 30 years. Hmm… does not sound to shabby.
It is thought that the phasing out dollar bills in favor of coins would require a four-year transition period, during which the government invests in the new currency, but following that, the government would save an expected $522 million each year from the change. What do you think about that? Personality if the figures are correct I agree with the phasing out…. but I rather get rid of those darn pennies. A penniless world does not seem to bad either – I wonder why they do not think about phasing that out as well.
It has been noted that in past reports that efforts to increase the circulation and public acceptance of the $1 coin have not succeeded, in part, because the $1 note has remained in circulation – this time it sounds like we will not have such an option.
Though it has been proposed to break up with the dollar bill in the past – it never happened – but the climate in Washington DC is one of reducing expenses as much as possible – so time will tell.
Still, we'd like to pose the question to Budget Savvy Diva readers. Would you be willing to eliminate dollar bills and switch to coins if it meant improving the country's balance sheet?