Living Well For Less: Saving Money When Dining Out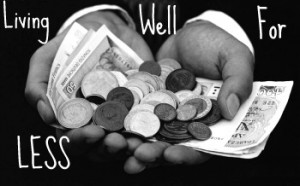 Thanks! Amy Coombs for writing this article for Budget Savvy Diva 🙂
Saving Money When Dining Out
I've heard many complaints from people that every time they go out to dinner with their significant other they end up dropping at least $100 for the bill.  To me, this sounds ridiculous.  I believe a hundred dollars is not worth just an hour or two of a date.  And if you're doing this once a week or even once every other week, it can add up FAST!  Here are some tips on how to get a nice meal without breaking the bank.
1.    Skip the drink.  Where I live in Los Angeles, a mixed drink can cost up to $12, which is basically the same cost a half a bottle of liquor if purchased at the store.  One beer can cost between $5 and $7, which is the same as about 3 or 4 bottles at the grocery store.  If you and your partner each order two drinks it will cost about $30-$40, plus tax and tip.  Cut out your drink costs by having a glass of wine or a beer before you go out.  Though, please drink responsibly.
2.    Don't get dessert at the restaurant.  They sure do love inflating the price of dessert.  Before spending $8 on that piece of chocolate cake, think about going to the bakery across the street and splitting one of those large cookies with your significant other.  It will cost less and is a good excuse to make the date last longer.
3.    Get the full portion instead of the half portion.  This seems counterintuitive, I know, but it will be your best value.  Occasionally, restaurants will offer a "half portion" of a meal for $1 or $2 less.  Don't fall for it.  Wouldn't you rather pay the extra dollar and get twice as much food?  Then you can wrap up the other half and eat it for another full meal.
4.     Eat out family style with a group.  This is one of my favorite things to do and works especially well in ethic food restaurants such as Chinese or Thai.  Get a group of 8 or so people together at a Chinese food place and order 5-6 dishes to split between you.  This is great not only for saving money, but for trying many different items on the menu.
5.    Use Restaurant.com.  Restaurant.com sells coupons to various local restaurants.  The "regular price" for a $25 gift certificate is $10 but you should never have to pay that much.  Sign up for their email list and they will constantly send you coupon codes for anywhere between 70% and 80% off.  Therefore you can get a $25 gift certificate for only $2.  However, make sure to read the fine print, as most certificates have minimum purchase requirements.  For example in order to use most $25 certificates, you need to spend at least $35.  These are wonderful if you go out in groups.  Once I bought a $50 certificate for $4 (you had to spend at least $100 at the place to use it), and I went with 5 of my friends.  We got drinks, appetizers, and a meal and we all ended up spending just over $10 a piece.
6.    If you're not a follower of Groupon or Living Social yet, follow them right now.  What they do is offer a coupon for purchase that is only available for 24 hours.  About 80-90% of the time these coupons are for restaurants.   Once my fiancé and I bought a Groupon to a really fancy restaurant in which we paid $30 for $75 worth of food.  Therefore we got $45 for free to spend at this unbelievable place.  You can get on the mailing list for Groupon.com and LivingSocial.com.  I highly recommend both of them.
It's great to treat yourself once in a while, but just know that you don't have to spend $100 to get a nice meal.  Follow my tips and tricks and you will likely cut your bill in half.