Rachael Ray's $30.00 Dollar Meals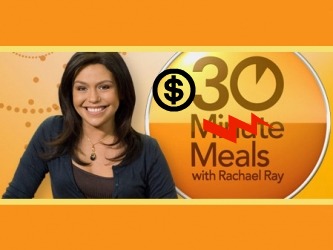 This article was written by Mr. Savvy -BSD's hubby
I just finished watching 30 Minute Meals with BSD.  We could not believe how expensive it got as Rachel Ray prepared a boneless skinless chicken breast dinner with a white wine mushroom sauce, cheesy rice and arugula salad.  I just kept seeing figures floating around the objects as she kept bringing out new ingredients that don't come cheap and squandering them on the dish.  I think she went through half a bottle of EVOO.  It was like a 30 minute Mastercard commercial… priceless.
Granted the dish presumably feeds four, given the number of chicken breasts (I could have eaten most of that rice plus my share of chicken with no problem), but $7.50 a plate plus all that running around like a crazy person?  Good ingredients are important.  We're foodies and enjoy a sophisticated meal, but sophistication doesn't have to be pricey and when we do invest in great ingredients we budget it just like it's cash in our hands.  "Apply liberally" is not often heard or adhered to in our house.
The amazing burger BSD recently created  was partially made possible by two great rubs we purchased with a gift card at our favorite toy store, William Sonoma.  She didn't use much, but it really enhanced the burger and made those fries extra addicting.  Just a one time investment that will last us through the grilling season will make exceptional gourmet indulgences out of otherwise thrifty food purchases.
Also, remember to keep your eyes open for great ingredients on clearance.  Being prepared with a shopping list helps to avoid over spending, but sometimes letting the clearance items inspire you leads to the very best frugal feasts.