Must Read – Tipping Doesn't Reward Good Behavior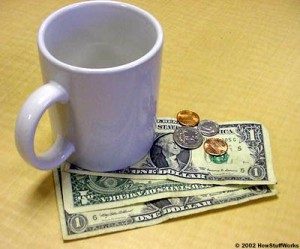 Make sure to PIN IT 🙂
We all know that tipping goes with eating out and other activities like that – but did you know there are influences on how much you will tip?!
Redefining good service
Studies have shown that tipping is more based on physical attraction than actual good service. Women who wear make up or have a larger breast size are usually tipped more by males. Likewise, female diners tip men better than they do other women. Another tip trend is that credit card users tend to leave more gratuity than cash carriers. If you are in the food industry and want to know what kind of service earns you that little extra, here it is:
Introduce yourself by name— the goal here is simply to highlight yourself as more than just a server. They will feel slightly more connected to you and that will be effective later when the check comes.
Bring yourself to table level— Don't know why this works, but it draws the customer in.
Complimenting the customers choice— It makes them feel good and they have a bond with you now, because you like the same things.
Touching on the arm— This seems risky, but it apparently works. Your pushing that connection even further. Just make sure they've been resposive to your other efforts before trying this.
Go in for the kill with candy on the check— If you're a woman, drawing a smiley face works too.
Studies: Archives of Sexual Behavior 2009, International Journal of Hospitality Management 2010
Writer: Mr. Savvy!