Four Cheese Baked Pasta Recipe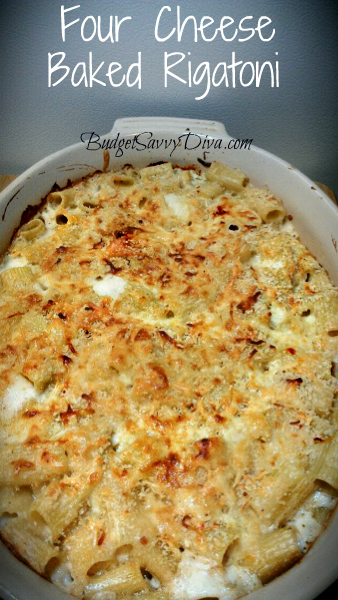 Make sure to PIN this recipe 🙂 Button is right over there


This recipe screams success  – feel free to add veggies or meat to this dish.  You can easily adapt this recipe to become gluten – free by using gluten – free pasta, flour, and bread crumbs.

Everyday at 1 pm PST/ 4pm EST Budget Savvy Diva posts a NEW RECIPE 🙂 I might miss this time every now or then – but I know you understand
Make sure to follow Budget Savvy Diva on Facebook 🙂
Find Copy Cat Restaurant Recipes HERE
Find Crock Pot Recipes HERE
Find Gluten Free Recipes HERE
Find more Recipes HERE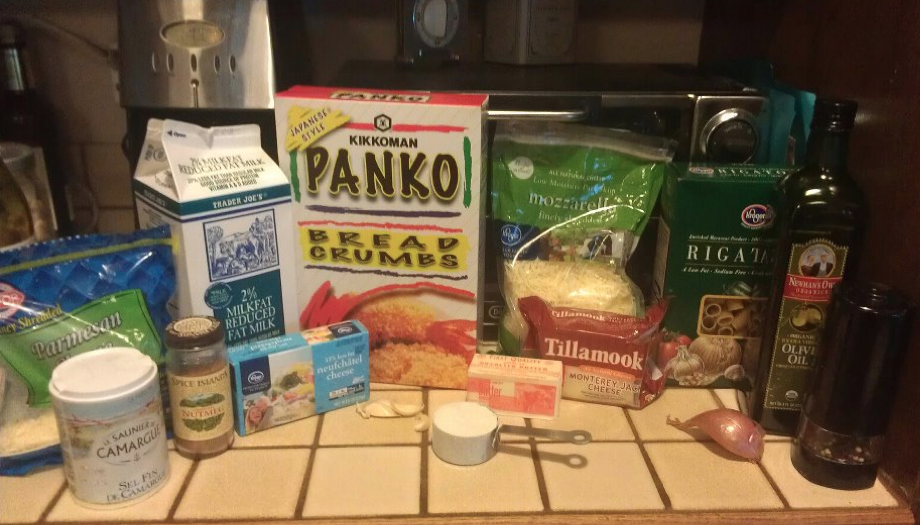 What You Need
1 pound mini rigatoni pasta
1 shallot, sliced
3 garlic cloves, minced
1/2 teaspoon olive oil
5 tablespoons unsalted butter
1/4 cup flour
2 cups milk
1/3 cup Parmesan cheese
8 ounces Monterrey jack cheese
8 ounces mozzarella  cheese
8 ounces cream cheese softened
1/4 teaspoon salt
1/2 teaspoon pepper
1/4 teaspoon nutmeg
1/3 cup panko bread crumbs
What To Do
Preheat oven to 375.
Grate all the dry cheeses together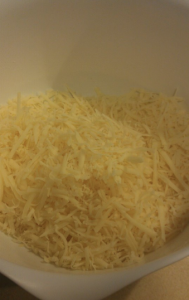 Cook pasta according to the directions – BUT under cook the pasta by 4 minutes.
In a large sauce pan heat up the oil and butter. Cook shallots for 3 minutes. Add garlic and cook for one minute.
Add flour – mix constantly till you have a roux. ( basically the mixture becomes a nice golden brown) .
Add milk and cook for 2 minutes.
Add ALL cheeses   – ( except leaving 1/2 cup of the dry cheese mixture for topping).
Cook for 5 minutes.
Add seasonings. Mix the pasta and cheese mixture together.
In a casserole dish ( greased) add the cheesy pasta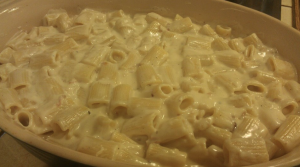 Sprinkle the panko and reserved cheese on top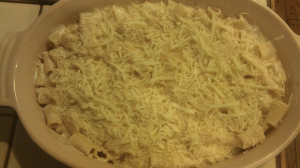 Bake for 30 minutes – or until the top becomes a nice golden brown.
Enjoy 🙂
Four Cheese Baked Pasta
Ingredients
1 pound mini rigatoni pasta
1 shallot, sliced
3 garlic cloves, minced
½ teaspoon olive oil
5 tablespoons unsalted butter
¼ cup flour
2 cups milk
⅓ cup Parmesan cheese
8 ounces Monterrey jack cheese
8 ounces mozzarella cheese
8 ounces cream cheese softened
¼ teaspoon salt
½ teaspoon pepper
¼ teaspoon nutmeg
⅓ cup panko bread crumbs
Instructions
Preheat oven to 375.
Grate all the dry cheeses together
Cook pasta according to the directions - BUT under cook the pasta by 4 minutes.
In a large sauce pan heat up the oil and butter. Cook shallots for 3 minutes. Add garlic and cook for one minute.
Add flour - mix constantly till you have a roux. ( basically the mixture becomes a nice golden brown) .
Add milk and cook for 2 minutes.
Add ALL cheeses - ( except leaving ½ cup of the dry cheese mixture for topping).
Cook for 5 minutes.
Add seasonings. Mix the pasta and cheese mixture together.
In a casserole dish ( greased) add the cheesy pasta
Sprinkle the panko and reserved cheese on top
Bake for 30 minutes - or until the top becomes a nice golden brown.
Enjoy 🙂
This recipe is adapted from HERE