DIY Holiday Finger Paints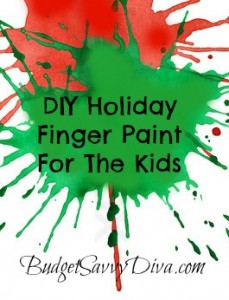 Other Great Tips!
DIY Holiday Finger Paints
No more going out and buying paints, when you can make any color that you want in MINUTES. Combine 3 tablespoons of sugar, 1/2 teaspoon of salt, 1/2 cup of corn starch and 2 cups of water on the over until it all gets thick. Allow the 'paint' some time to cool, but when it's cooled separate how much that you want into different containers. Now is the fun part where you get to add and mix colors until you find the exact ones that you want and add the food coloring. Now grab the kids and try it out! Too much fun!!