DIY Clean Your Toothbrush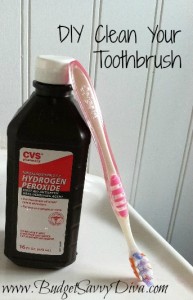 Other Great Tips!
DIY Clean Your Toothbrush
This is something that often slips my mind to do at home. Yes, you're suppose to get a new toothbrush every 3-6 months but if you never clean it can you even start to imagine how many germs grow on the toothbrush that sits on the counter, or on the sink. Hairspray, perfume, ANYTHING just sitting on the end of your toothbrush –ICK. Just soak your toothbrush in hydrogen peroxide to kill the germs instantly.
Your mouth will thank you!!