Defrost Meat In Less Than 15 Minutes, FDA Approved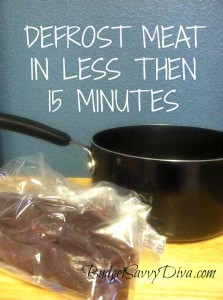 Other Great Tips!
Defrost Meat in Less Then 15 Minutes, FDA APPROVED!!!
LIFE SAVER!! Heat water to 140 degrees temperature and then turn burners off. Place the meat in a storage (zip lock) baggie and put it in the water. Let it sit for 10 minutes if it's chicken, and 12 minutes if it's any other meat. The best part is that the meat won't cook and bacteria will not develop! Best part is that it's FDA approved, but yet not recommended for bigger cuts of meat. Next time don't sweat it when you have a time line and still have to thaw the meat! This trick is quick, and SAFE!