Easy Breakfast Bake Recipe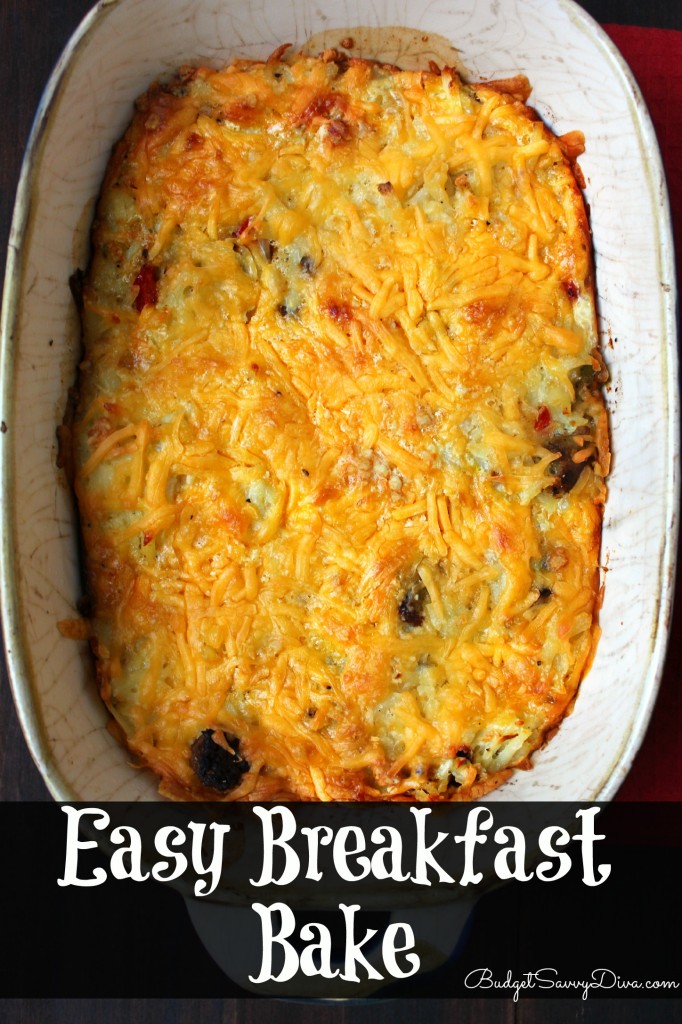 Make sure to PIN this Recipe HERE
I love making breakfast casseroles – they always end up being pretty gosh darn awesome
Funny little story for you all – you see that casserole above the one that is meant for 6 VERY hungry people. My husband ate it all over the course of one hour. Yes the whole casserole in ONE HOUR!!!  He could not have enough – he said it is one of his favorite recipes I make
And it is SO easy I can easily make it anytime 🙂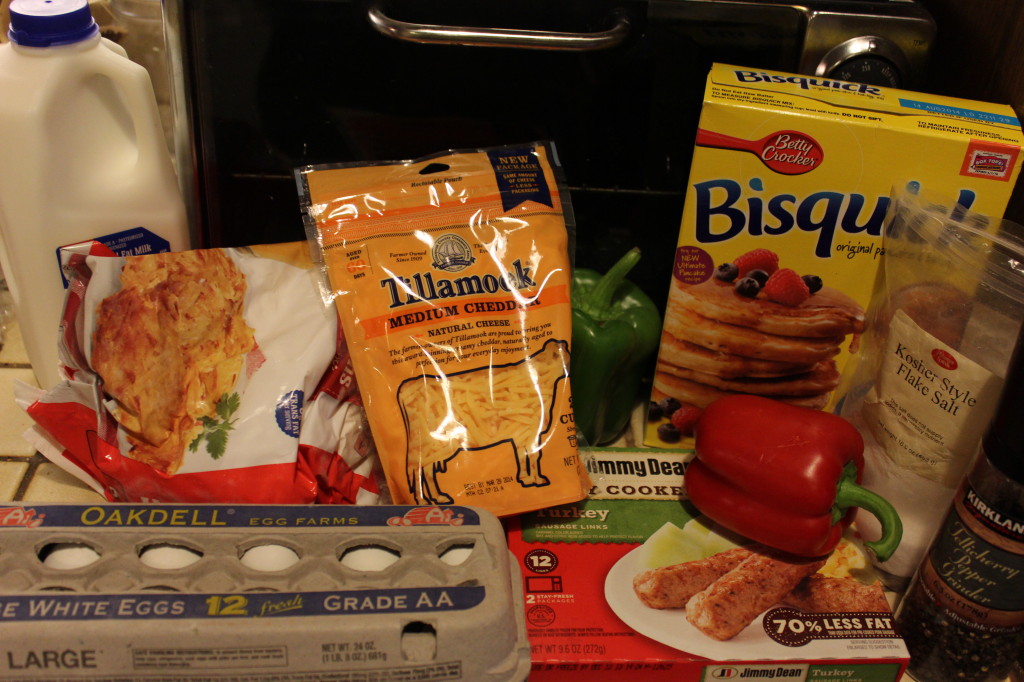 This bake has EVERYTHING – sausage, eggs, hash browns, peppers, and pancake mix all baked together
This is the perfect Sunday dish for the family – I am thinking about making it for Christmas morning …. shhhh do not tell my husband I want it to be a surprise
Now let's check out some finished pictures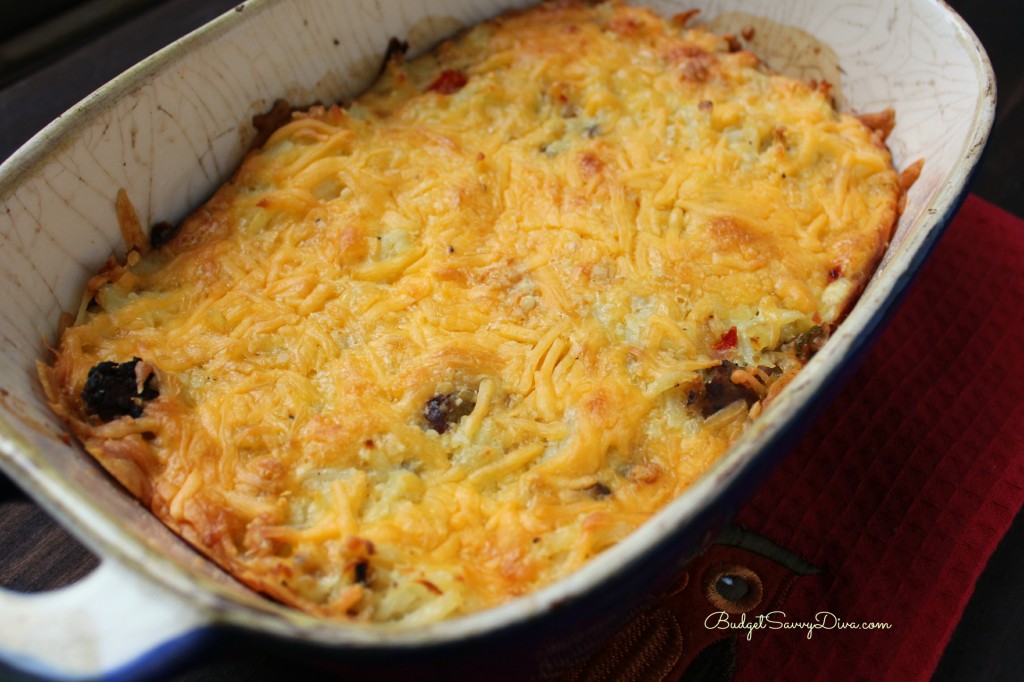 Can you see what is on my napkin in the picture — if you know make sure to leave a comment
I forgot to mention how frugal this dish is to make — I would say it cost under $6 to make so about $1 per person 🙂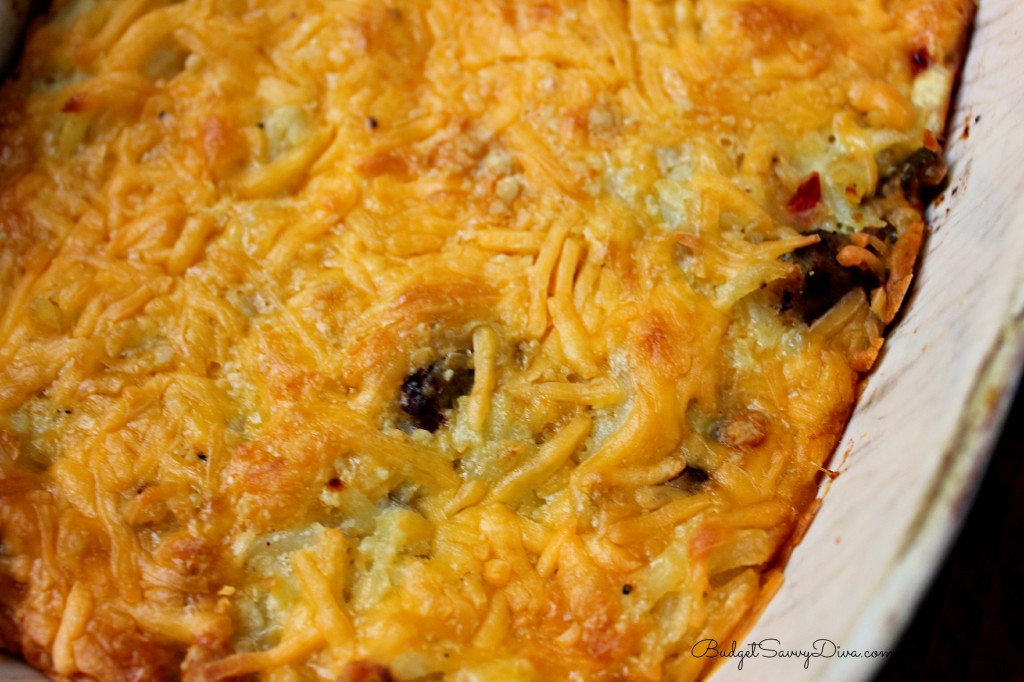 The black parts in the picture are sausage – not burn marks 😉
Enjoy The Recipe Loves!
Easy Breakfast Bake Recipe
Ingredients
12 Link Sausages ( Small ) - diced
½ Red Bell Pepper - Diced
½ Green Bell Pepper - Diced
2 Cups of Frozen Hash Brown Potatoes
2 Cups of Cheddar Cheese
4 Eggs
1 Cup of Bisquick
2 Cups of Milk
½ tsp of pepper
¼ tsp of salt
Olive Oil
Instructions
Preheat the oven to 400
Place about 1 tablespoon of oil onto a skillet. Heat to medium - Add bell peppers and sausage - cook for 5 minutes
Grease casserole dish - place pepper and sausage mixture on the bottom of the casserole dish
Sprinkle hash browns on top of the sausage
Sprinkle cheese on top of the potatoes
In a bowl whisk together the following - bisquick, eggs, milk, salt and pepper
Pour bisquick mixture over the ingredients in the casserole dish
Bake for 45 minutes
Let cool for 5 minutes
Enjoy!