Easy-Cheesy Slow Cooker Queso Recipe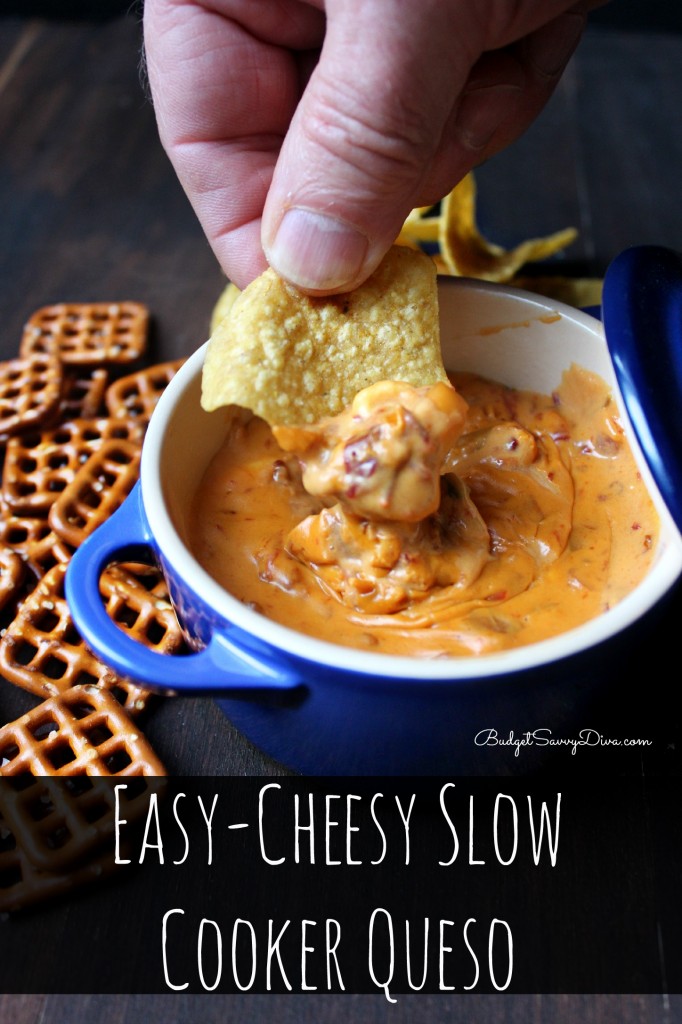 Before we do anything else BIG props to my hand holding the chip in the picture above — it took a good minute it get that shot while I was directing him
It was pretty intense 😉
BUT I did choose the blue casserole bowl 🙂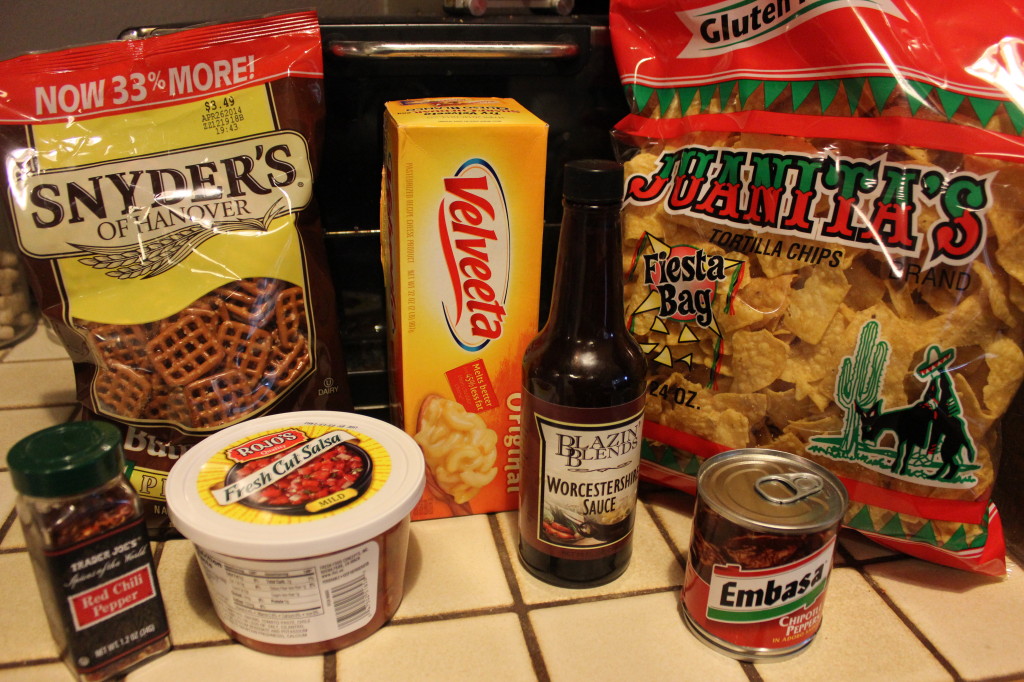 There are two ways you can make this recipe ( mild or hot) it all depends on how much of the chipotle peppers in adobo sauce you use – I highly suggest going light on it since it has a POWERFUL punch but the adobe sauce give the dip great depth.
This is one of the easiest dip dishes you will find
SIMPLY throw all the ingredients into your crock pot and wait
Stir and Serve
I am not a huge velveeta fan; however, it melts so well it is a perfect cheese for this dip
Now let's look at the finished product 🙂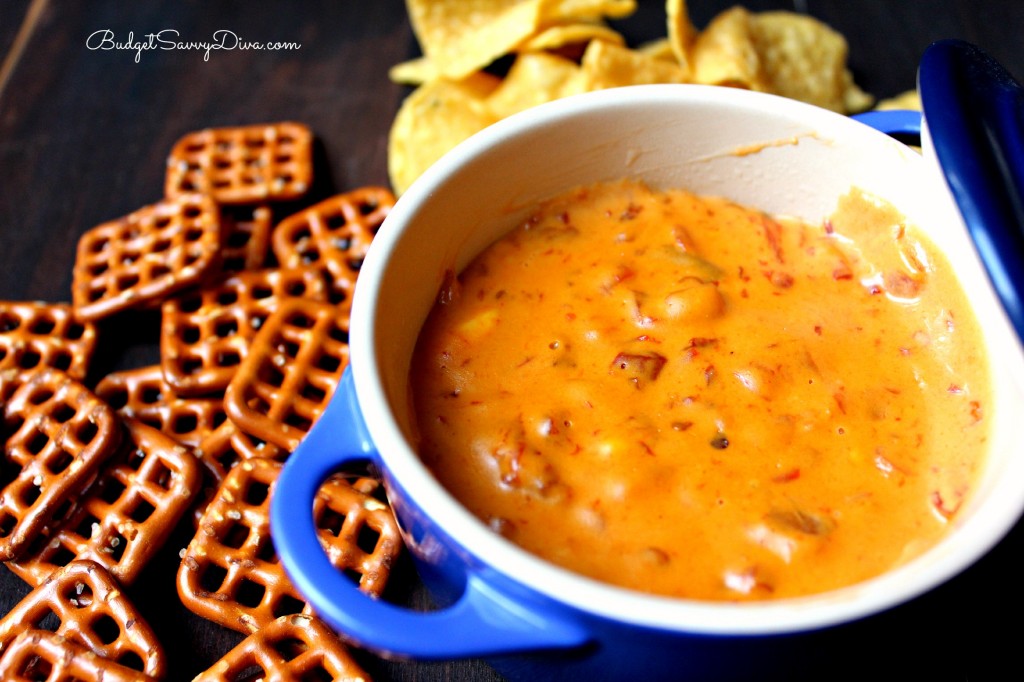 This dip is enough for 6 – 8 at a party or for a snack
My dad and I made this dip on high and it was done and ready in about 2 hours 🙂
You can serve this dish with chips or pretzels ( whatever floats your little boat)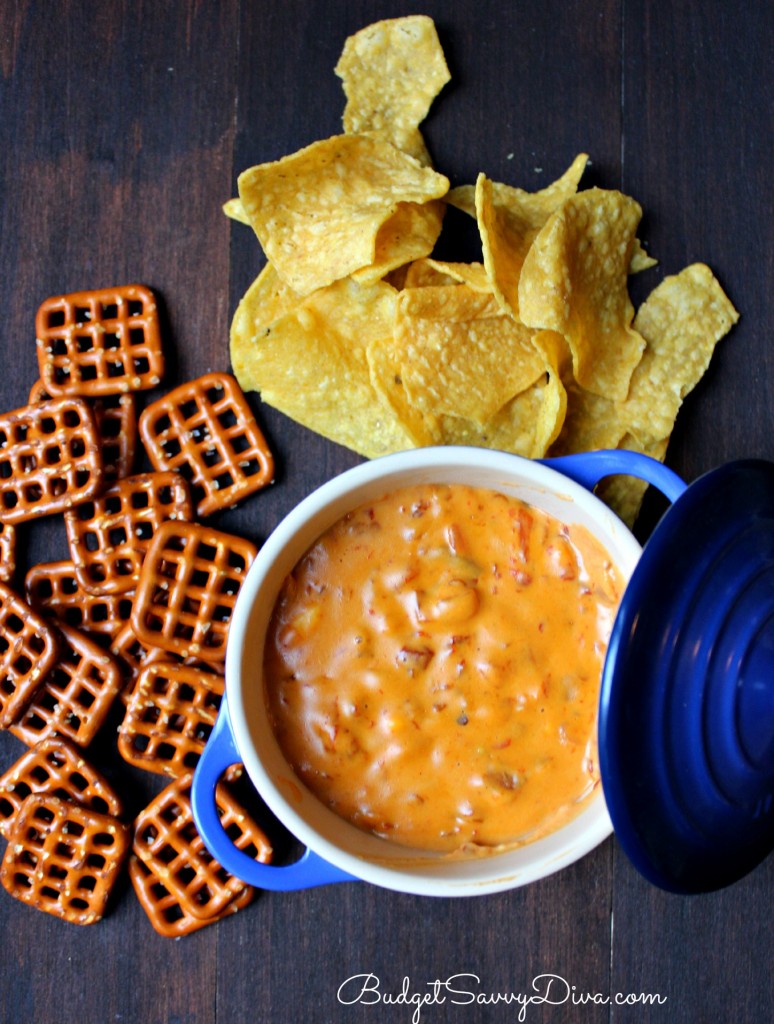 How perfect is this dish for a party 🙂 I really do hope you try this dish because I know it is a hit!
If you do make this recipe I would love to see it – make sure to snap a picture and put it on twitter or instagram and use the #budgetsavvydiva so I can check it out 🙂
Love You Guys!
Easy-Cheesy Slow Cooker Queso Recipe
Ingredients
14 ounces of Velveeta Cheese - cut into small cubes
½ tsp of red pepper flakes
½ tsp of Worcestershire sauce
½ Cup of Mild Salsa ( chunky kind)
pretzels
Tortilla Chips
2 - 4 oz of chipotle peppers in adobo sauce ( HOT Dip)
Mild Dip - Exclude chipotle peppers in adobo sauce
Instructions
Lightly grease your crockpot add all the ingredients in to the crock pot and set either to low ( 4 hours of cooking or high 2 hours of cooking)
Stir half way through cooking ( time amount will differ depending on what it is set to)
Enjoy dip with chips and pretzels
Enjoy