Starbucks Cotton Candy Frappuccino Recipe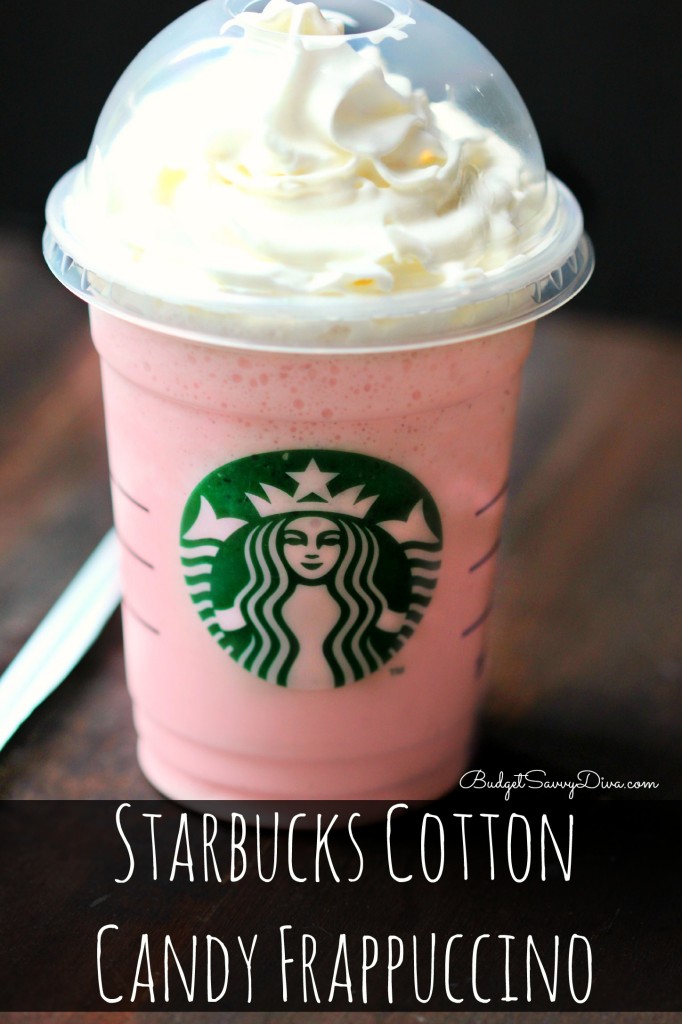 Be TOTALLY awesome and Pin this recipe on Pinterest ( Repin the cotton candy Frappuccino copycat recipe HERE)
I do not even know WHERE to begin with this cotton candy Frappuccino recipe! First off my husband has been working for Starbucks for a while which means we get the opportunity to have a lot of yummy drinks
He told me a while back about Starbucks secret menu – GO HERE for the menu
One of the drinks was called Cotton Candy…. I WAS LIKE KASJDKLJASDKJASKLDJ …. I REALLY like Cotton Candy.
He made me the drink and I was HOOKED.
Simply put it taste like cotton candy. WHICH IS AMAZING
Essentials and Non Essentials of a Cotton Candy Frappuccino
Eric was able to get a clean cup and straw for me ( That part is not necessary but I thought it was a nice touch 😉 )
It is really important that you get vanilla bean ice cream since they use vanilla bean at Starbucks
I used 2% milk – which worked out well. You can also this with almond milk which I have done. There is really no difference ( I use vanilla almond milk)
I did a video about the day where I did this recipe check it out below
Why You'll Love the Cotton Candy Frappuccino Copycat Recipe
This recipe is so simple to make — my mom loved it even though she is not crazy about cotton candy
It is not too sweet it is basically a mixture of raspberry and vanilla milkshake
If you do make this recipe I would love if you would take a picture and put it on Instagram – use the #budgetsavvydiva so I can check it out 🙂
If there are any Starbucks recipes you would like me to copy cat please comment below – so I can work on it 🙂
The drink is naturally gluten-free 🙂
Love You Guys!
Starbucks Cotton Candy Frappuccino Recipe
Ingredients
½ Cup of Vanilla Bean Ice Cream
⅔ Cup of Milk ( 2%)
2 Tablespoons of Vanilla Syrup
3 Tablespoons of Raspberry Syrup
1½ Cup of Ice
Whipped Cream Topping
Instructions
Place ice cream, milk, syrups, and ice into a blender
Blend till smooth
Pour into Glass
Top with whipped cream and enjoy