Easy Baked Chicken Enchiladas Recipe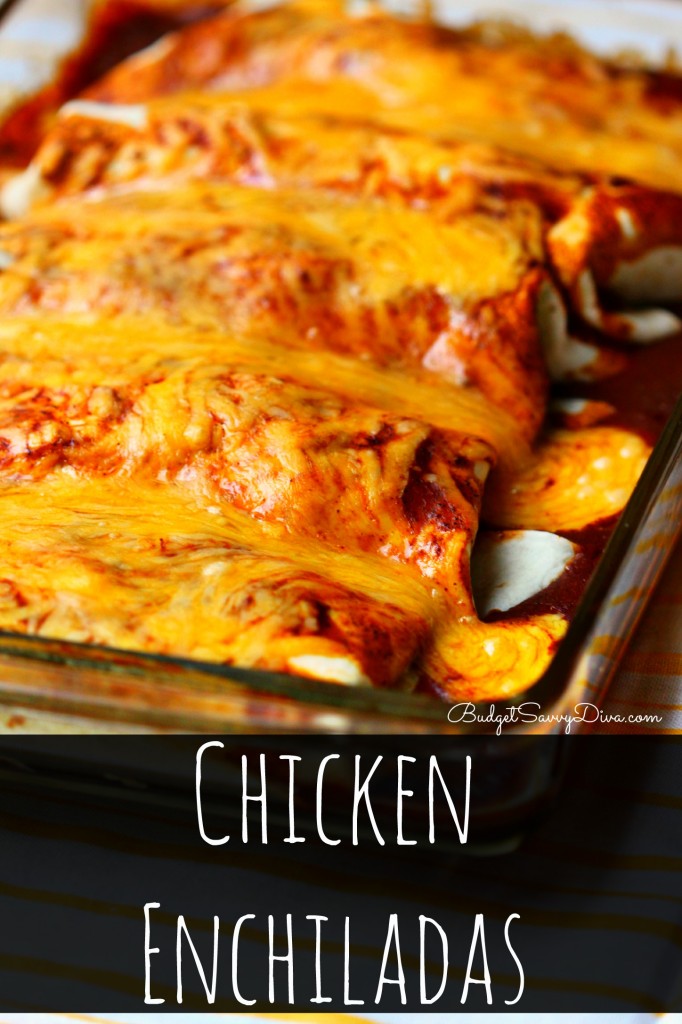 Be SUPER awesome and repin this recipe HERE
Have you ever made Baked Chicken Enchiladas? I know they look like it would be difficult but it is actually really simple
What I love about chicken enchiladas is that I can make it and Eric will have food for a couple days ( which is EXACTLY what happened this week ) of course I made rice to go with it – this week was deep clean of the kitchen so I really did not want to get the kitchen too dirty.
Baked Chicken Enchiladas are So Easy to make !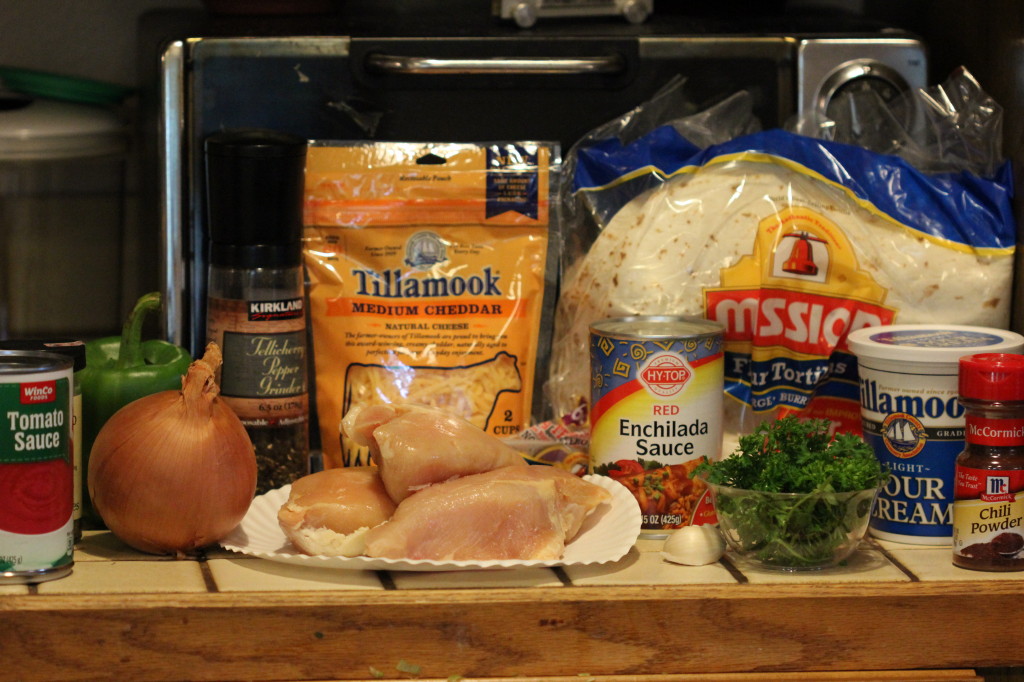 What I love about this recipe is that most everything is in your pantry or really inexpensive. If you do not want to use chicken breast you can use chicken thighs
One item not pictured is the olive oil I used to cook the chicken  – I think the final cost of the Baked Chicken Enchiladas dish was around $8 ( chicken of course the item that increased the cost) – but it is enough for 6 people or a husband who eats a lot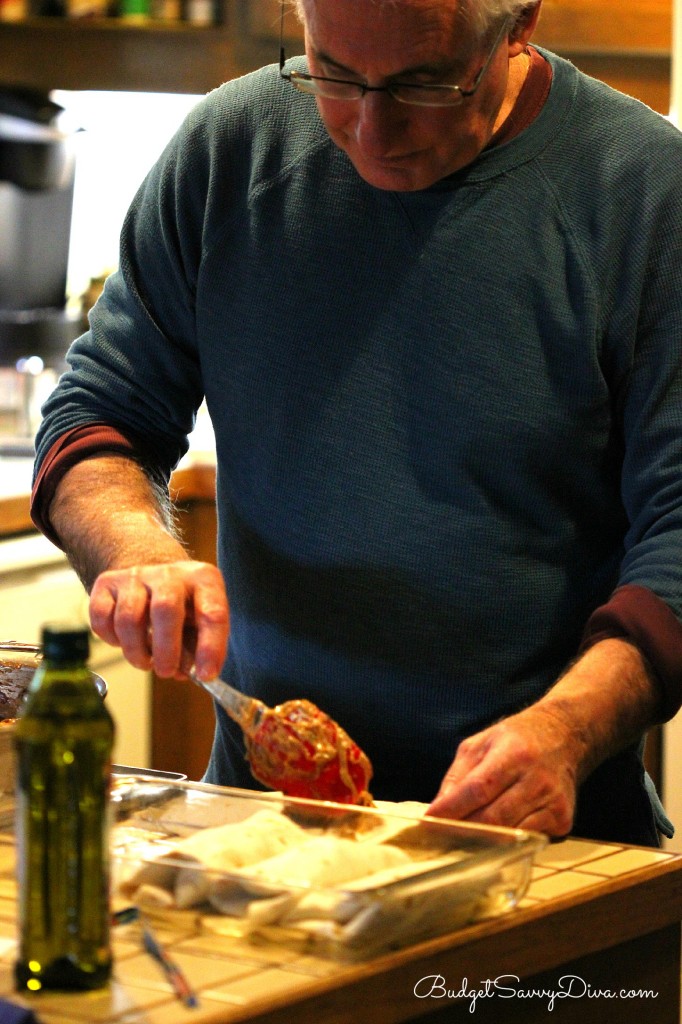 And there is the bottle of olive oil that did not get into the ingredient picture 😉
My dad ( of course) helping me make the Baked Chicken Enchiladas  🙂 All you have to do is scoop, roll, and DONE!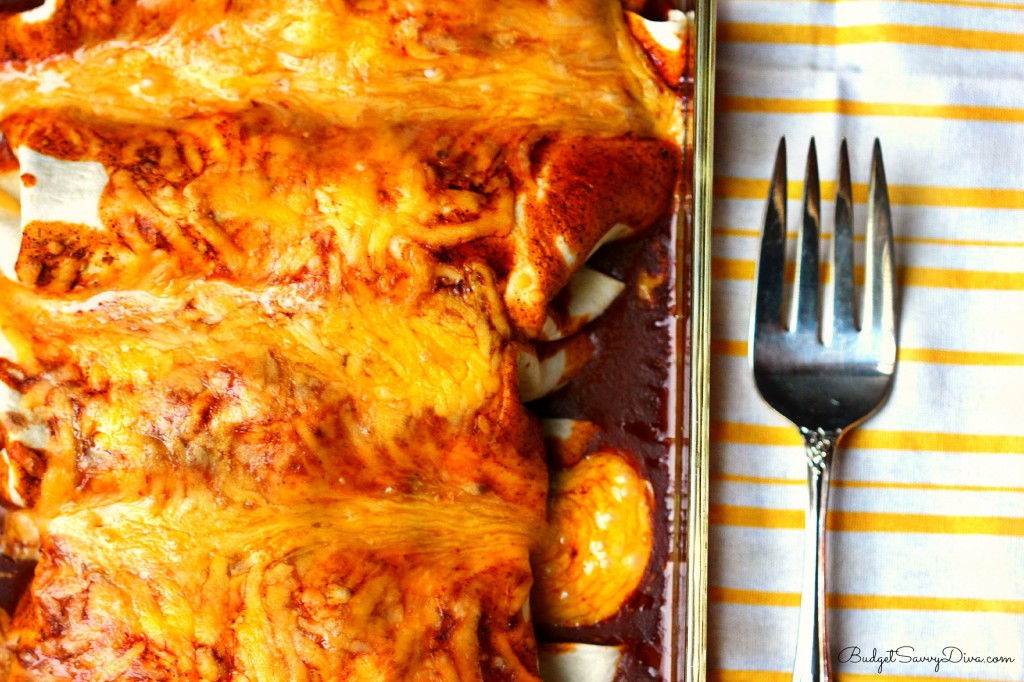 We really hope you make the Baked Chicken Enchiladas 🙂 If you do please leave a comment about what you thought of it 🙂
Love You Guys!
Get the
Baked Chicken Enchiladas Recipe
Easy Baked Chicken Enchiladas Recipe
Ingredients
4 Chicken Breasts - cut into bitesize pieces
½ Cup of Onions, Diced
1 Cup of Sour Cream
2 Cups of Cheddar Cheese
1 Tablespoon of Parsley
½ teaspoon of dried oregano
½ teaspoon of pepper
6 ounces of tomato sauce
1 can of red enchilada sauce
1 Tablespoon of Chili Powder
1 green peppers ( seeded and diced)
2 Cloves of Garlic , mined
6 flour tortillas
Instructions
Preheat Oven to 350
Heat a small amount of oil in a skillet over medium heat - add chicken - cook for 5 minutes - add onions, green pepper, and garlic - cook until chicken is cooked - drain excess liquid
Add sour cream, 1 cup of cheddar cheese, chili powder, pepper, oregano, and tomato sauce - mix and heat till cheese is melted
Grease the 9x13 casserole dish
Take each tortilla and place ⅙ of the filling in the middle of the tortilla and roll and place into the casserole dish
Once the 6 rolls are in the casserole dish
Pour the enchiladas sauce on top and sprinkle 1 cup of cheddar cheese
Bake uncovered for 15 minutes
Enjoy!