Save More with New Groupon Coupons

I am always looks for a better way to shop for myself, friends and family. Also it is important to be mindful of a budget as well. My husband and I have tried to cut our costs as much as possible with changes of careers and other large expenses like needing a new car. One of my favorite places to shop is Groupon site – where you can find so many amazing deals on tons of services and products.
I love that I can shop for local ideas for date night. Date night here always needs to be on a budget.
But now I found another way to save money with Groupon is with site is with Groupon™ Coupons! site is with Groupon™ Coupons has over 63,203 free coupons at 9,874 stores ( I am so excited about this guys!)
Here are some of the coupons that I found –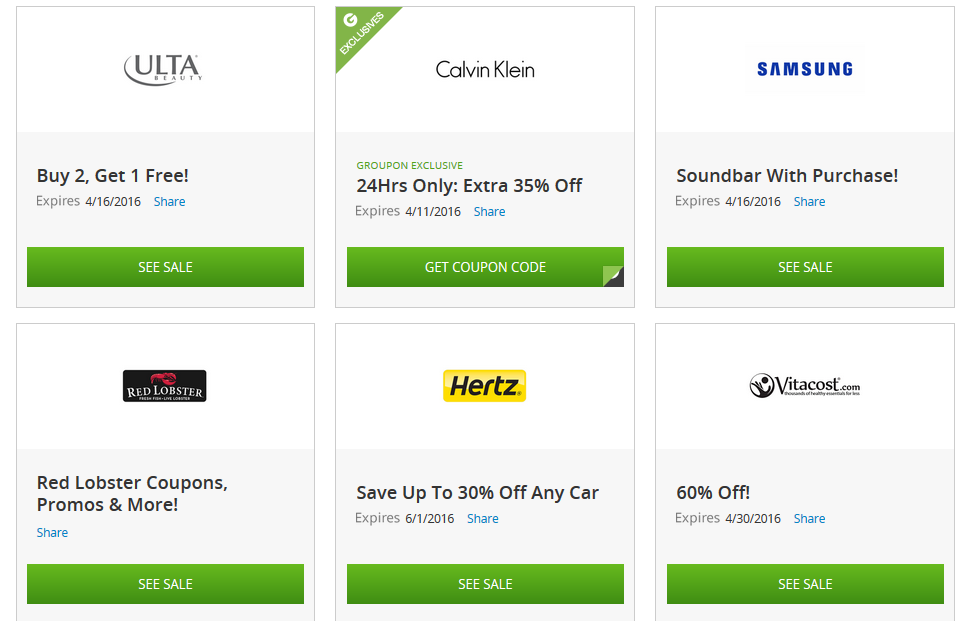 I was already planning on shopping at Ulta for makeup and now I can get a better deal because of Groupon™ Coupons
I also saw tons of deals for  Macys too!
There is no fee to get the coupons either! It is 100% free – I also noticed some tax coupon offers too – perfect if you have not filed your taxes yet.
Be sure to follow them on Facebook and Twitter
Disclosure: I will receive compensation for this advertorial for Groupon. Thoughts are my own.