Creamy Roasted Garlic Spaghetti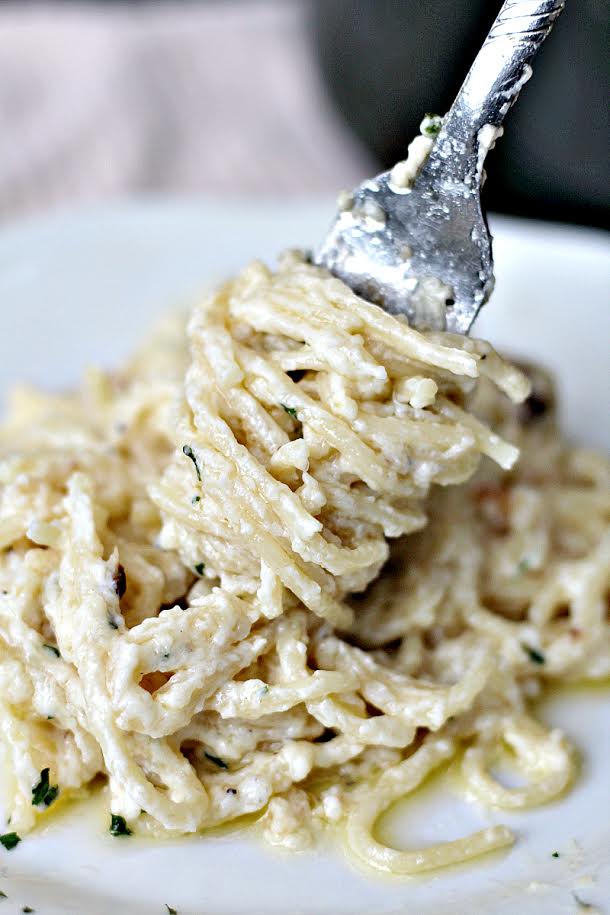 I made this for dinner a couple weeks ago and it was a HUGE hit and I decided to post the recipe for you all.

If you do make my Creamy Roasted Garlic Spaghetti please make sure to comment.
Creamy Roasted Garlic Spaghetti
Ingredients
1 cup whole milk
2 tablespoons unsalted butter
2 tablespoons all-purpose flour
¼ teaspoon salt
¼ teaspoon cayenne pepper
2 teaspoons extra virgin olive oil
4 heads roasted garlic (instructions below)
parsley, for garnish
prepared pasta
Instructions
ROASTED GARLIC INSTRUCTIONS
Preheat oven to 350 degrees F. Slice the heads of the garlic and place In a small glass dish. Drizzle with olive oil. Cover dish with foil and roast for 1 hour. Allow to cool.
SAUCE INSTRUCTIONS
Heat milk in a small saucepan and remove just before it starts to boil. Cover and set aside.
In a large saucepan, melt butter.
Add flour and stir until lumps are removed, for about 1 minute over medium heat
Gradually whisk in warm milk.
Add salt and cayenne; whisk until sauce starts to boil and reduce heat.
Gently squeeze the garlic cloves into a small dish and mash with a fork; add to the sauce and stir over medium heat until mixture comes to a boil.
Add over spaghetti noodles and sprinkle with parsley.