Being Prepared For Cold And Flu Season
This shop has been compensated by Collective Bias, Inc., Abreva, Clorox, Theraflu and TYLENOL®. All opinions are mine alone. #AHealthyHolidays #CollectiveBias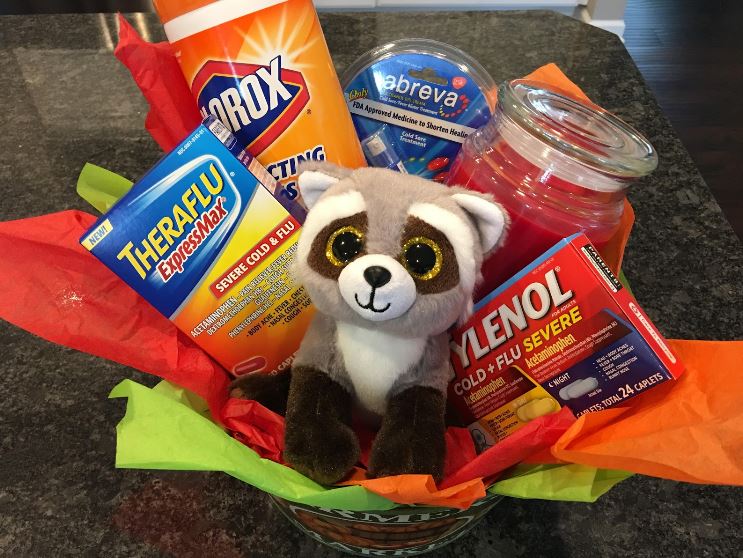 It is cold and flu season and I was reminded of this weirdly enough on a Kroger trip with family when Eric had a bathroom emergency.  We don't know what sent him running so fast, but it was during that time that I saw a display featuring items that are perfect for surviving this tricky season.  It is a time of togetherness, which often means crowds and germs and (cough, cough) well…. You know.  It was at this moment that I had a burst of inspiration to take some of my favorite items from the display and put together a gift basket using a cool bucket I found on sale.I always love finding a good value.  I also love putting together a thoughtful gift and this one will help a close friend or relative survive the cold and flu season.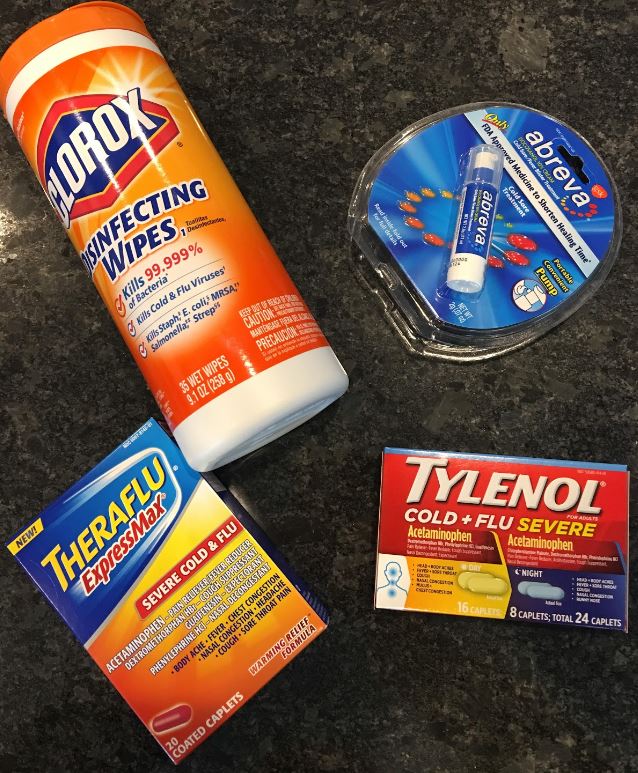 First off I had to include a scented candle.  It's festive and is certain to lift the spirits of whomever you gift the basket to, whether you intend it as a get well gift or just a pretty survival kit.  I also wanted to anchor the basket with a cuddly toy.  I saw this racoon and instantly new I had to add the cuteness factor to my basket.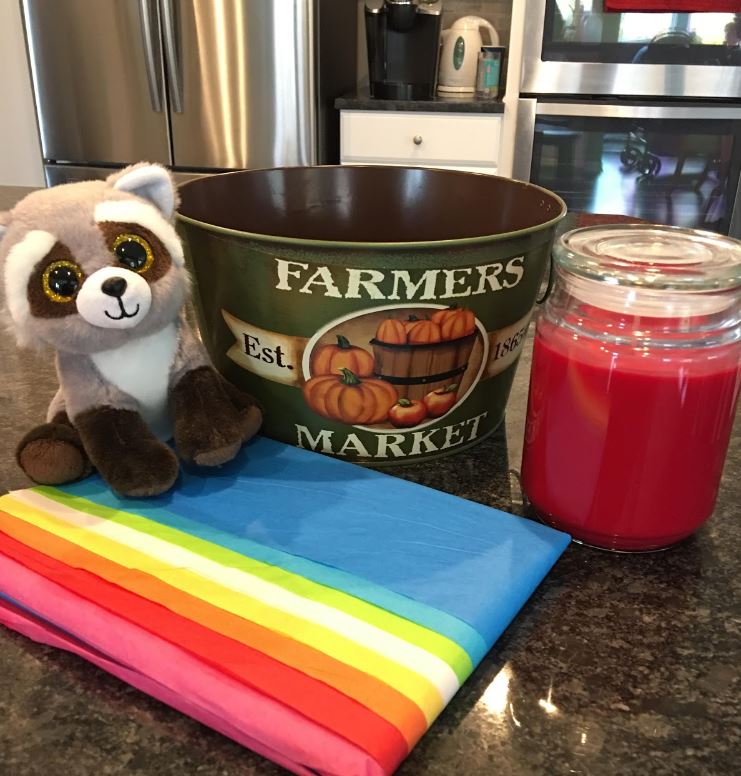 I put tissue paper in the basket using holiday colors as well as prominent colors in the products I chose.  In this case it was orange.  Once I had the frills in place to create the gift wrapped element I placed in my two anchors, the toy and the candle, and then filled in the surrounding spaces with the items I picked up from the display including:
TYLENOL® Cold + Flu Severe Day/Night, because it is the #1 doctor recommended pain relief brand and it comes with a feel better money back guarantee.
Theraflu Expressmax Severe Cold and Flu caplets for powerful relief without a prescription.
Clorox Disinfecting Wipes, because they are super handy and kill 99.9% of germs that can live on surfaces for up to 48 hours and it kills nasty Staph, E. Coli, Salmonella and Strep.
Abreva pump because it is a great treatment for healing cold sores.  This is super effective when applied at the first sign of a tingle on your lip and it is an indispensable addition to your medicine cabinet, because the value of having it there when you need it is so high.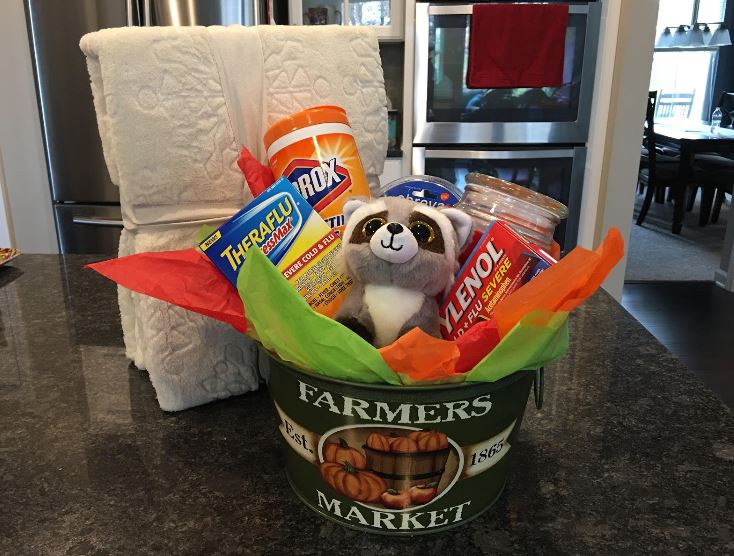 After piecing together my finds with the other gifts I found at Kroger I had a nice gift basket that anyone would live to have this season. Right now Kroger has savings on these products.  Give it to someone important in your office as a way to show what they mean to you, or make one for a friend that always has to take those midnight trips to the pharmacy in the dead of winter.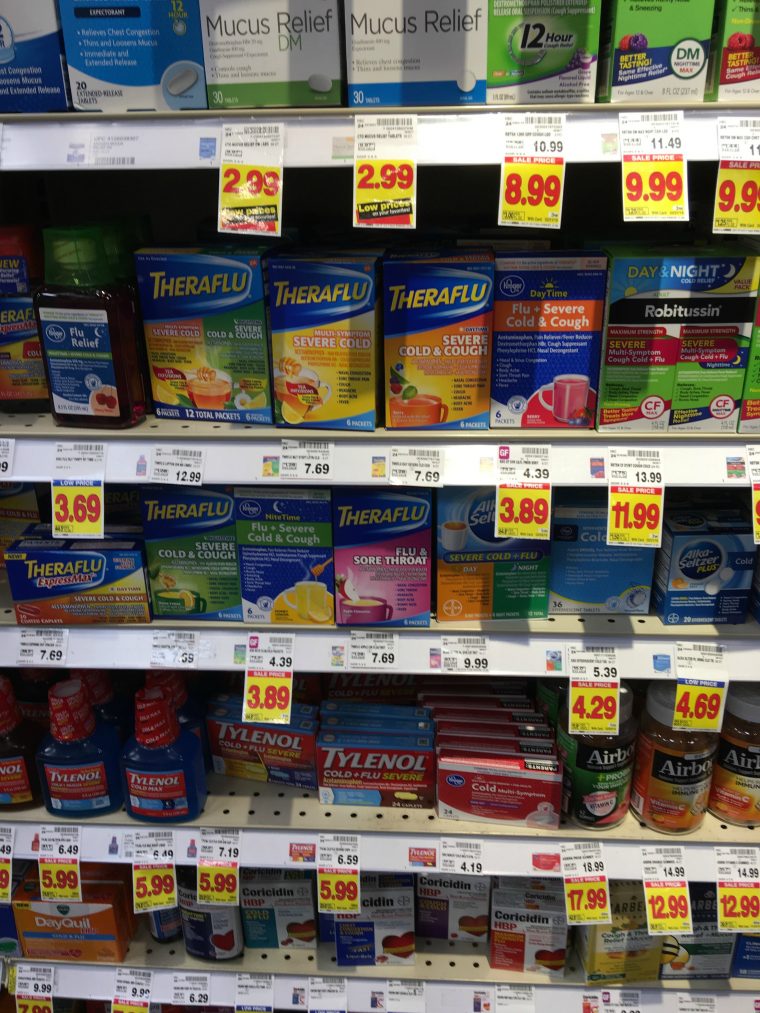 Abreva – Use only as directed. Read and follow label directions.
Clorox – Use as directed.
Theraflu – Read and follow label directions. Theraflu is for use in adults 12 years and older. Use
products only as directed.
TYLENOL® – ® Johnson & Johnson Consumer Inc. 2017. Use products only as directed. The makers of TYLENOL® remind you to use only one medicine with acetaminophen at a time.
*Influenza A Virus **On hard, non-porous surfaces. See product label for list of organisms.