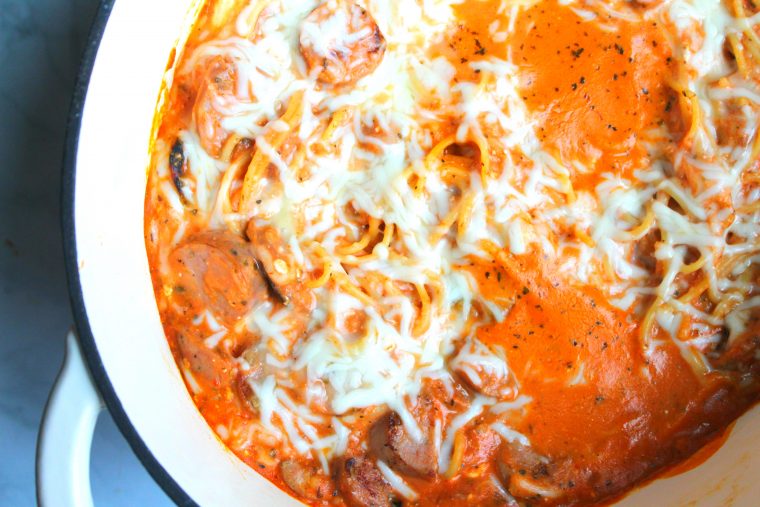 I have been loving pasta, you guys.  We've been making more food at home throughout the holidays and one of the best things to prepare for a family meal is pasta.  It's super cheap and always delicious.  I already had some chicken sausage in the fridge that I needed something to do with and naturally I decided to include it in a spaghetti dish that really puts it out of this world.  I used two of these chicken sausages sliced about ¼ inch thick.  They added the perfect amount of meaty chew to the mix while also bringing some wonderfully sweet and savory flavors.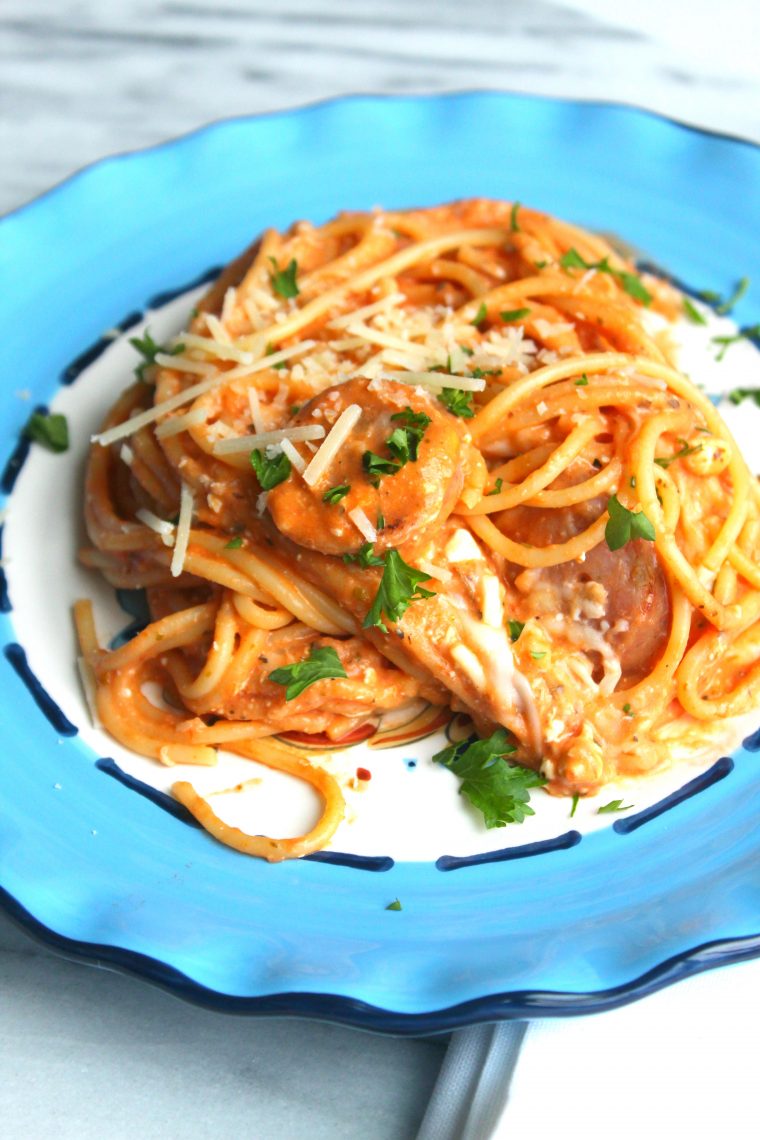 I pulled this together pretty quickly on Friday afternoon.  I made a huge batch that filled my dutch oven and by Saturday it was gone.  Everybody loved it.  The spaghetti sauce is made with a variety of cheese and there are a couple of other surprises.  Do yourself a favor and give this amazing pasta dish a try.
Ingredients
16 oz dry spaghetti
4 cloves garlic minced
2 links of chicken sausage
2 24 oz jars spaghetti sauce
8 oz cottage cheese
8 oz cream cheese
¼ cup sour cream
3 tbs dried italian seasoning
3 cups shredded mozzarella
½ cup sliced butter
Salt
Pepper
Instructions
Preheat oven to 350 degrees.
In a large pot, boil water along with 1 tbs of salt. Cook pasta following the instructions on the package, drain well and return to pot. Add 1 jar of spaghetti sauce. Stir and set aside.
Add 2 tbs olive oil to a large skillet and cook over medium heat. Add garlic and cook until soft. Add sausage and allow to brown. Drain well and add 1 jar of spaghetti sauce to skillet. Set aside.
Take a medium mixing bowl and combine cottage cheese, cream cheese, sour cream, 1 cup mozzarella and italian seasoning set aside.
Put half of the sliced butter in a dutch oven or baking dish. Spread half of the spaghetti around the dish then add the cheese mixture and add the rest of the butter. Top the mixture with the rest of the spaghetti and pour on the tomato meat sauce.
For the final layer, add the remaining mozzarella and bake for about 35-45 minutes or until heated through. Enjoy!