Paw Patrol: Jet to the Rescue
Nickelodeon sent me a new Paw Patrol DVD, Paw Patrol: Jet to the Rescue, to review. As always the DVD was free in exchange for my honest opinion about the show.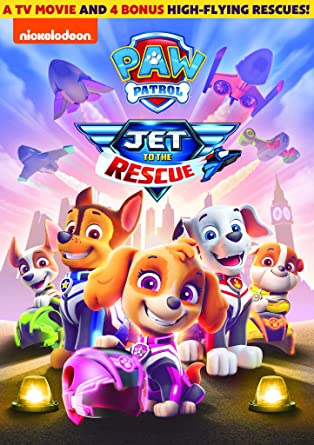 Paw Patrol is without a doubt Nickelodeon's most successful franchise. It's successful because it does what it's supposed to do, which is entertain kids. Paw Patrol hits that sweetspot in a childs developing mind that captivates them and inspires play. I love that about this show and Nickelodeon's continued efforts to put kids first in all of their programming.
The #1 Show and Original Movie
Paw Patrol is the number one ranked preschool show on television. The Spin Master produced program has come out with a new release that is now available to own on DVD. Paw Patrol: Jet to the Rescue features and all new original TV movie in addition to four Paw Patrol episodes your kids will watch over and over and over again. The adventure packed mission includes all-new gear and high speed mission jets that help save the day.
Among the adventures in this new DVD are a stunt pilot rescue at Barkingburg Castle, a kitten rescue and more. In addition to the fun video, Amazon has the Paw patrol merchandise your kids want to! You know how I said Paw Patrol inspires play? That's because Spin Master knows toys. If your kids love Paw Patrol and can't wait to dive into some rescue action, they are going to love gearing up with the latest toy and apparel collection at www.amazon.com/pawpatrol.
In Jet to the Rescue The Duke of Floppngton steals a levitation gem from the royal castle and the pups have to get it back. Paw Patrol: Jet to the Rescue includes the original movie, plus fan favorite episodes: Pups Save High-Flying Skye, Pups Save Skye, Pups Save a Flying Kitty, and Pups Save an Ace.