Pint-Sized Prodigy Makes Mensa History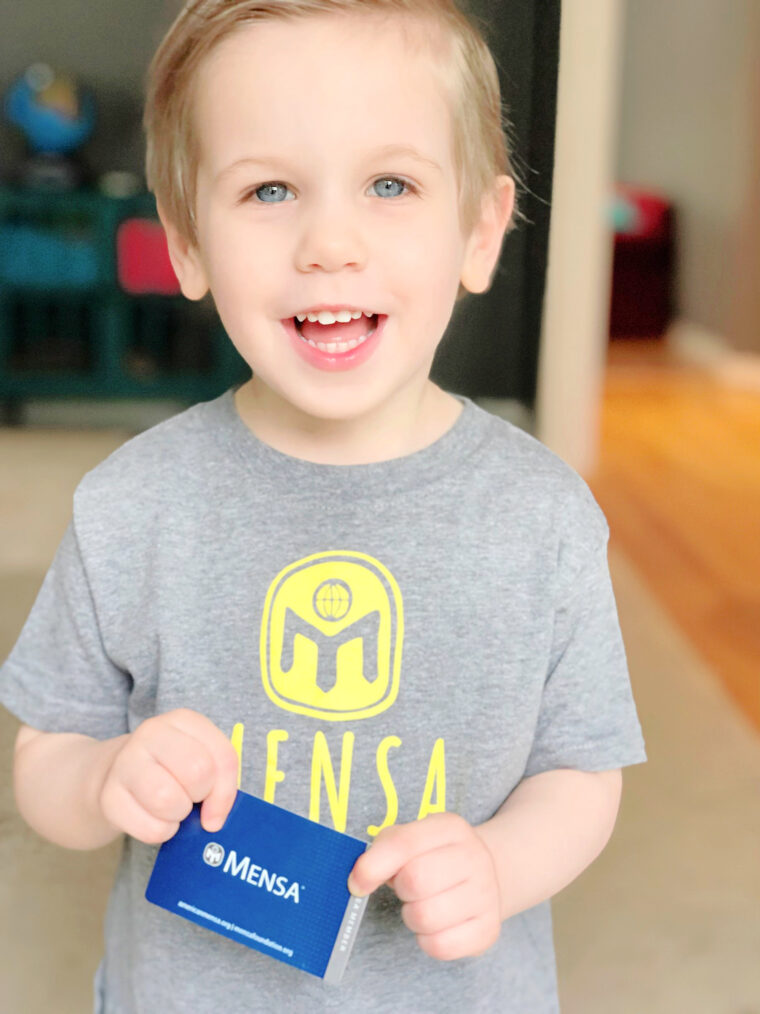 For all of the Lawson posts go HERE.
Last Post – Lawson Took An IQ Test – Here Is His Score – 4 Year Old
Some of you may have already learned the news and thank you so much to everybody who hasn't spilled the beans. We recently had Lawson's IQ tested and were amazed by the results. I'm now amazed and delighted to share that Our little boy has now been accepted into American Mensa!
Why We Applied to Get Lawson in Mensa
Joining Mensa is a major accomplishment for one little three year old ( he joined back in June), but to me it's more than just being part of a special club. He doesn't know it yet, but the little ID card he loves so much is a symbol of the amazing resources we will now be able to access for him. As we have taken this journey of learning how different and how extraordinary Lawson's mind is, my own mind has been wracked with anxiety about being able to keep up and give him the tools he will need to achieve his full potential. Could I wait to place him in school for two more years? What will he know by then? How would he be around his other classmates? Would he get left behind or forgotten by teachers? Or ruled out as a problem student with behavioral issues. The more I learned from reading other parents' experiences I became certain that we would need to place him somewhere where he can get more positive reinforcement and stimulation now. That's when I turned to Mensa. I learned about youth programs and courses that he could take. Plus, He would have the opportunity to socialize with other kids who are gifted like him. Little did I know that when he was finally accepted he would be making history.
The Youngest and Highest
Although Mensa is very protective of children's identities and official records won't be made public Lawson is the youngest member in American Mensa with the highest IQ which makes Mensa history. What that means is that although there is one member who is a little younger, Lawson has a staggering 151 IQ which is higher than the youngest member – which places him in the profoundly gifted category and makes him even more rare. Of course, he tested out of the exam he was given at the child psychologist's office, so he will need to be tested again later to get the true number which will likely be even higher. Such giftedness is a huge blessing and a major responsibility for Eric and I. People are worried about us putting too much pressure on him, but the truth is that the pressure is all on us. It's up to us to provide for all of our kids what they need to flourish and thrive; And we just learned that Lawson needs much, much more than the typical child. There are so many pitfalls and trials to sidestep and overcome as we do our best to raise a kind and decent person, while also taking into account his enormous potential and capacity for knowledge. 
Join my Journey
Finding help from other parents of gifted children is hard. They have their hands full, as do I, but I am in perhaps more of a unique position to share my insights and the resources I find valuable. I look forward to sharing this journey we're on with all of you and making support and options more available to other parents out there who are looking for ways to set their gifted children up for success. One of the things I plan to share aside from the ups and downs of parenting a gifted child is some of the tips and helpful advice we'll acquire along the way. This is scary and exciting and I hope to have your support as we embark on this road together. 
Do you have experience with gifted youth or have a gifted child? Share your story in the comments. I'd love to learn everything!