Chocolate Covered Mint Leaves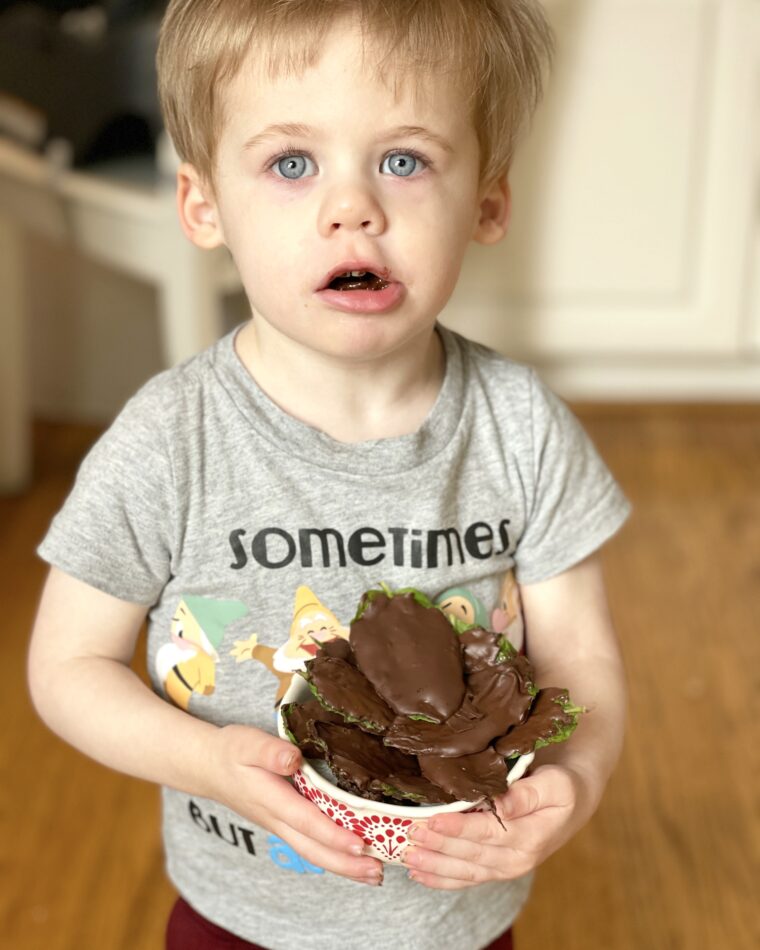 If you want to follow our gardening journey you can see all the posts HERE.
I love this photo of Lachlan – I asked him to hold the bowl of the chocolate-covered mint  – he started to chomp on a bunch. This treat is a HUGE treat with all the kids ( the oldest 4). It really tastes like those chocolate mints you get at the Olive Garden. All the kids loved making chocolate covered mint leaves.
Can mint leaves be eaten raw?
Yes! I have always loved eating mint fresh from the garden. Make sure you wash it first though.
It is pretty simple to make which is why it is perfect for kids to help make.
Clip 15 – 20 mint leaves
Melt 1/2 cup of chocolate chips – I use the microwave method of heating for 30 seconds at a time until the chocolate is fully melted.
Dip each leaf into the chocolate and place the chocolate leaf onto parchment.
Wait about 1 hour for the chocolate to harden then enjoy!
I placed the leaves into a baggie and have it in the fridge – they are good for about 2 weeks.
The taste is kinda like a thin mint