*Brag Worthy Shopping Trip* $3.06 Moneymaker at Home Depot and Walmart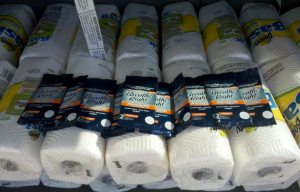 What do YOU think about this Shopping Trip?
Check Out MORE BRAG PICTURES
If you have a Awesome Shopping Trip Photo – please send it to [email protected]!
Thanks! Reader Kim
This is what she wrote
I went to Home Depot to originally look at light fixtures and stumbled across an AWESOME sale…..
"Bounty Basics 54c each!!"
I bought 56 and used 28 $1 off ANY two bounty rolls or napkins
Then I went across the road to Walmart and bought…
10 trial size packs of Breath Right Strips (97c) I used 10 $1.50 off 12 count or smaller, making each one a 53c MONEY MAKER
So if I take out the $2.24 it cost me for the Paper Towels this trip was a $3.06 MONEY MAKER!!!!!!
I never did get my light fixture LOL