Crock Pot Chicken Chili Recipe

This recipe seriously takes only a few minutes to prepare. Mr.Savvy even said it tasted better the next day. It only really requires about 15 minutes of work – sounds like a good deal to me 😉

If you like this recipe then PIN IT on Pinterest
Everyday at 5 pm PST/ 8 pm EST Budget Savvy Diva posts a NEW RECIPE 🙂
Make sure to follow Budget Savvy Diva on Facebook 🙂
Find Copy Cat Restaurant Recipes HERE
Find Crock Pot Recipes HERE
Find Gluten Free Recipes HERE
Find more Recipes HERE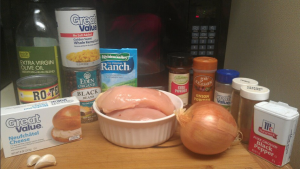 What You Need
1 can black beans ( rinsed)
1 can corn, undrained
1 can Rotel, undrained
1 package ranch dressing mix
1 tsp cumin
1 Tbsp chili powder
1 tsp onion powder
1 8 oz package light cream cheese
2 chicken breasts
1/4 teaspoon of cayenne pepper
1/2 teaspoon of garlic powder
1/2 teaspoon of pepper
1 cup of diced onion
1 Tablespoon of Olive Oil
2 Garlic cloves minced
What To Do
In a large skillet – heat oil and cook onions for 8 minutes than add garlic and cook for one minute.
Set your crock pot to low and add chicken, "cooked" onions and garlic, black beans, corn, rotel, all the seasonings, ranch mix.
Stir
Add cream cheese on top and cover and cook for 6 – 8 hours.
Before serving shred chicken using two forks.
Enjoy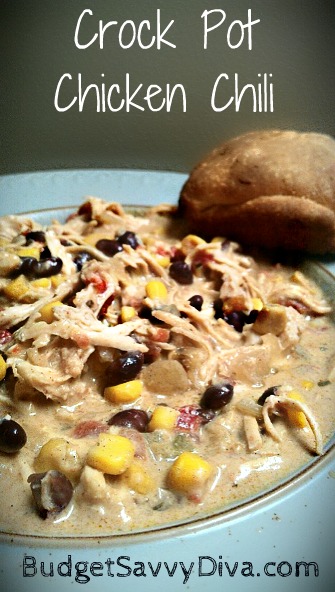 Do not forget about the biscuits  – make sure to make 7UP Biscuits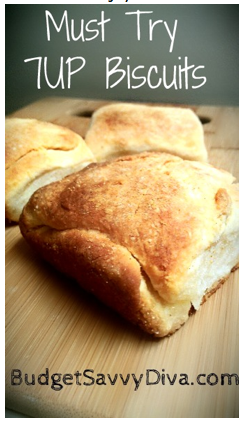 Crock Pot Chicken Chili
Perfect Chicken Chili - full of flavor
Ingredients
1 can black beans ( rinsed)
1 can corn, undrained
1 can Rotel, undrained
1 package ranch dressing mix
1 tsp cumin
1 Tbsp chili powder
1 tsp onion powder
1 8 oz package light cream cheese
2 chicken breasts
¼ teaspoon of cayenne pepper
½ teaspoon of garlic powder
½ teaspoon of pepper
1 cup of diced onion
1 Tablespoon of Olive Oil
2 Garlic cloves minced
Instructions
In a large skillet – heat oil and cook onions for 8 minutes than add garlic and cook for one minute.
Set your crock pot to low and add chicken, "cooked" onions and garlic, black beans, corn, rotel, all the seasonings, ranch mix.
Stir
Add cream cheese on top and cover and cook for 6 - 8 hours.
Before serving shred chicken using two forks.
Enjoy
This recipe is adapted from HERE