Parmesan Roasted Asparagus Recipe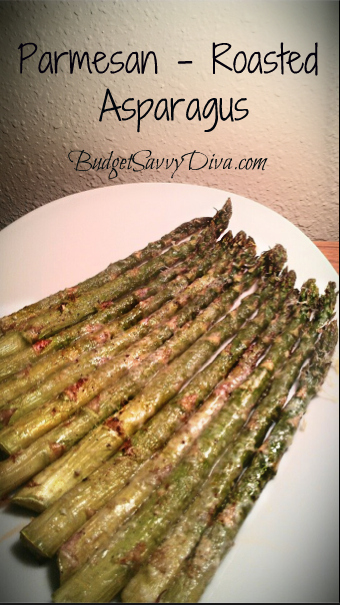 If you like this recipe then PIN IT on Pinterest

This recipe is something special. The outside of the asparagus becomes a little crispy with a tender middle. The roasted parmesan is highlighted by the lemon zest. Simple and perfect.

Everyday at 1 pm PST/ 4pm EST Budget Savvy Diva posts a NEW RECIPE 🙂 I might miss this time every now or then – but I know you understand
Make sure to follow Budget Savvy Diva on Facebook 🙂
Similar Recipes: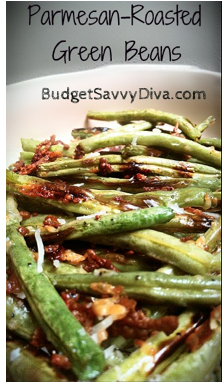 and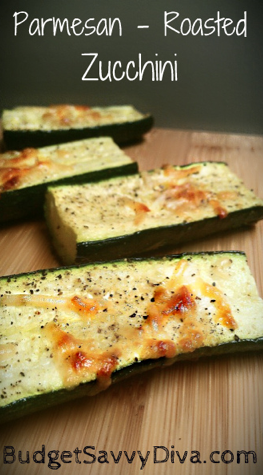 Find Copy Cat Restaurant Recipes HERE
Find Crock Pot Recipes HERE
Find Gluten Free Recipes HERE
Find more Recipes HERE
What You Need
Bunch of Asparagus – about 15
Salt
Pepper
Lemon Zest – 1/2 a lemon
Olive Oil
Parmesan Cheese
What To Do
Preheat the oven to 350
Trim the ends of the asparagus – place into large bowl.
Drizzle oil over asparagus – I do about 1 – 2 tablespoons. Just enough to make sure each are lightly covered in oil.
Season with salt and pepper – I do a pinch of salt and about 1/4 teaspoon of pepper
Add lemon zest.
Mix
Spread Asparagus onto a cookie sheet covered in parchment paper.
Bake for 10 minutes.
Sprinkle a "healthy" amount of cheese – I tend to use about 1/4 of a cup.
Bake until cheese is melted and starting to brown.
Enjoy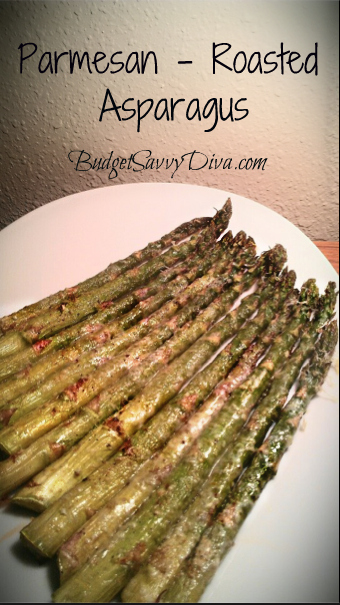 Parmesan Roasted Asparagus
Ingredients
Bunch of Asparagus
Salt
Pepper
Lemon Zest - ½ a lemon
Olive Oil
Parmesan Cheese
Instructions
Preheat the oven to 350
Trim the ends of the asparagus - place into large bowl.
Drizzle oil over asparagus - I do about 1 - 2 tablespoons. Just enough to make sure each are lightly covered in oil.
Season with salt and pepper - I do a pinch of salt and about ¼ teaspoon of pepper
Add lemon zest.
Mix
Spread Asparagus onto a cookie sheet covered in parchment paper.
Bake for 10 minutes.
Sprinkle a "healthy" amount of cheese - I tend to use about ¼ of a cup.
Bake until cheese is melted and starting to brown.
Enjoy