Yummy Turkey Roll Ups Recipe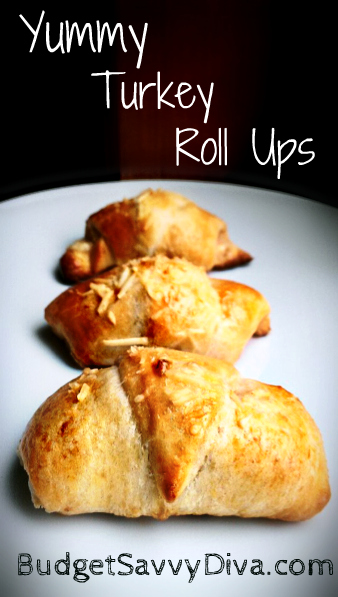 If you like this recipe then PIN IT on Pinterest

You will have your family fighting over these. Perfect for snacks or parties. I like to make them then freeze them so you can enjoy them later 🙂
Also another great recipe
Everyday at 5 pm PST/ 8 pm EST Budget Savvy Diva posts a NEW RECIPE 🙂
Make sure to follow Budget Savvy Diva on Facebook 🙂
Find Copy Cat Restaurant Recipes HERE
Find Crock Pot Recipes HERE
Find Gluten Free Recipes HERE
Find more Recipes HERE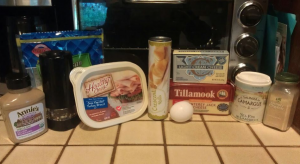 1 4-oz. pkg. light cream cheese – softened
1/8 cup of Dijon mustard
egg
1/4 Teaspoon of pepper
pinch of salt
Parmesan cheese
1/2 lb. turkey from deli, thinly sliced
1/2 lb. Monterey Jack cheese – small slices
garlic powder
1 pkgs. crescent rolls
What To Do
Preheat oven to 375.
Mix cream cheese, salt, pepper, onion powder; mustard together till smooth.
Roll of crescent rolls – there should be 8
Spread a small amount of cream cheese spread on crescent roll.
Place slice of turkey on top
Top with cheese ( 1 or 2 pieces)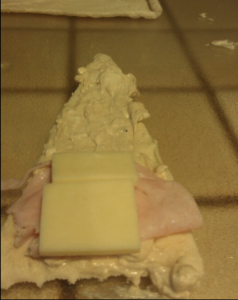 Roll and secure with a toothpick.
Break egg into small bowl and whisk. Brush egg wash on the top of the rolls. Sprinkle cheese on top.
Place rolls on parchment paper lined cookie tray and bake for about 12 – 15 minutes or till golden brown.
Enjoy 🙂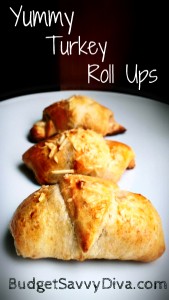 Yummy Turkey Roll- Ups
You will have your family fighting over these. Perfect for snacks or parties. I like to make them then freeze them so you can enjoy them later 🙂
Ingredients
1 4-oz. pkg. light cream cheese - softened
⅛ cup of Dijon mustard
egg
¼ Teaspoon of pepper
pinch of salt
Parmesan cheese
½ lb. turkey from deli, thinly sliced
½ lb. Monterey Jack cheese - small slices
garlic powder
1 pkgs. crescent rolls
Instructions
Preheat oven to 375.
Mix cream cheese, salt, pepper, onion powder; mustard together till smooth.
Roll of crescent rolls - there should be 8
Spread a small amount of cream cheese spread on crescent roll.
Place slice of turkey on top
Top with cheese ( 1 or 2 pieces)
Roll and secure with a toothpick.
Break egg into small bowl and whisk. Brush egg wash on the top of the rolls. Sprinkle cheese on top.
Place rolls on parchment paper lined cookie tray and bake for about 12 - 15 minutes or till golden brown.
Enjoy 🙂
Recipe is adapted from HERE