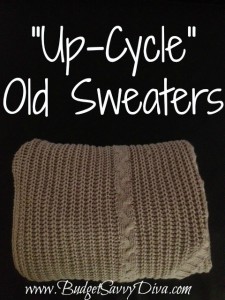 Other Great Tips!
"Up-Cycle" Old Sweaters
Have old sweaters that you just won't wear anymore? Here's a perfect use for them!
Cut the sleeves off an old sweater, and you have new, free, legwarmers or boot socks.
Cut a straight line under the armpits where the sleeves were and use the torso as an infinity scarf.
Now you have a pair of legwarmers and a new scarf from an old sweater that was gathering dust in the back of your closet!