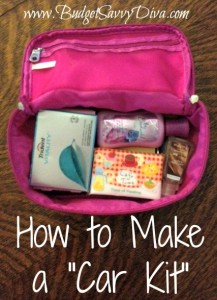 Other Great Tips!
How to Make a "Car Kit"
Ever need something when you're driving, but don't have it handy? Here's a great way to have everything you need at your disposal:
Use a bag, like the one pictured above, to store car necessities.
A few ideas for the inside:
Tissues
Notepad
Pen
Hand Sanitizer
Lotion
Chapstick
Feminine Products
Money/Change
Gum
Band-Aids
Add anything else you find yourself needing while on the road and store in the glove compartment or any other space that is easily accessed!