Ultimate Breakfast Casserole Recipe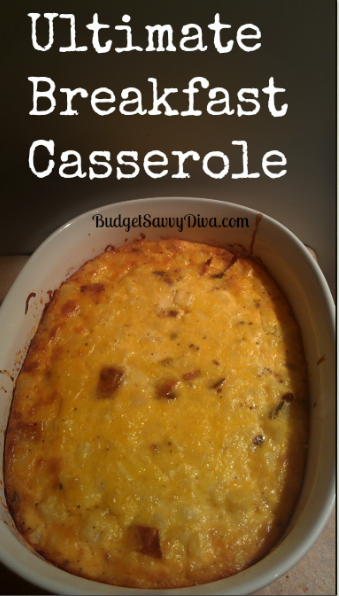 Make sure to pin the recipe or REPIN IT!
Budget Savvy Diva's Book is HERE!!!!
There is a National Book Tour!!!

Find out all the details

HERE
Everyday at 1 pm PST/ 4pm EST Budget Savvy Diva posts a NEW RECIPE 🙂 I might miss this time every now or then – but I know you understand
Make sure to follow Budget Savvy Diva on Facebook 🙂
Find Copy Cat Restaurant Recipes HERE
Find Crock Pot Recipes HERE
Find Gluten Free Recipes HERE
Find more Recipes HERE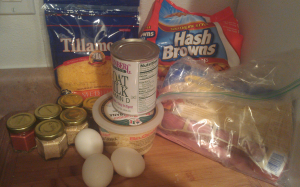 What You Need
6 Slices of Bacon Cooked and Cut Into Small Pieces
20 oz of Evaporated Milk – I use goat milk because of the "tang" it gives to the dish
3 Eggs
1 3/4 Cups of Cheddar Cheese Shredded
1/2 Cup of Parmesan Cheese
5 Cups of hash brown chunks – thawed
pinch of cayenne
1/4 teaspoon of paprika
1/4 teaspoon of salt
1/4 teaspoon of pepper
1/2 teaspoon of garlic powder
1/2 teaspoon of onion flakes
What To Do
Preheat oven to 350
In a bowl mix – all ingredients together except 1/2 cup of cheddar cheese
Grease a casserole dish — the size of your casserole dish will change your cooking time – 8×8 dish will take about 30 minutes to cook.
Pour the mixture into the casserole dish and sprinkle the rest of the cheddar cheese on top – cover with foil and bake. I would suggest using a 8×8 pan and test if the casserole is cooked ( test with a toothpick – if it comes out clean you are good) – Once the casserole is cooked take off the foil and bake for 5 more minutes
Enjoy! This freezes very well
Ultimate Breakfast Casserole
Ingredients
6 Slices of Bacon Cooked and Cut Into Small Pieces
20 oz of Evaporated Milk - I use goat milk because of the "tang" it gives to the dish
3 Eggs
1¾ Cups of Cheddar Cheese Shredded
½ Cup of Parmesan Cheese
5 Cups of hash brown chunks - thawed
pinch of cayenne
¼ teaspoon of paprika
¼ teaspoon of salt
¼ teaspoon of pepper
½ teaspoon of garlic powder
½ teaspoon of onion flakes
Instructions
Preheat oven to 350
In a bowl mix - all ingredients together except ½ cup of cheddar cheese
Grease a casserole dish -- the size of your casserole dish will change your cooking time - 8x8 dish will take about 30 minutes to cook.
Pour the mixture into the casserole dish and sprinkle the rest of the cheddar cheese on top - cover with foil and bake. I would suggest using a 8x8 pan and test if the casserole is cooked ( test with a toothpick - if it comes out clean you are good) - Once the casserole is cooked take off the foil and bake for 5 more minutes
Enjoy! This freezes very well