Slow-Cooker Chicken Tortilla Soup Recipe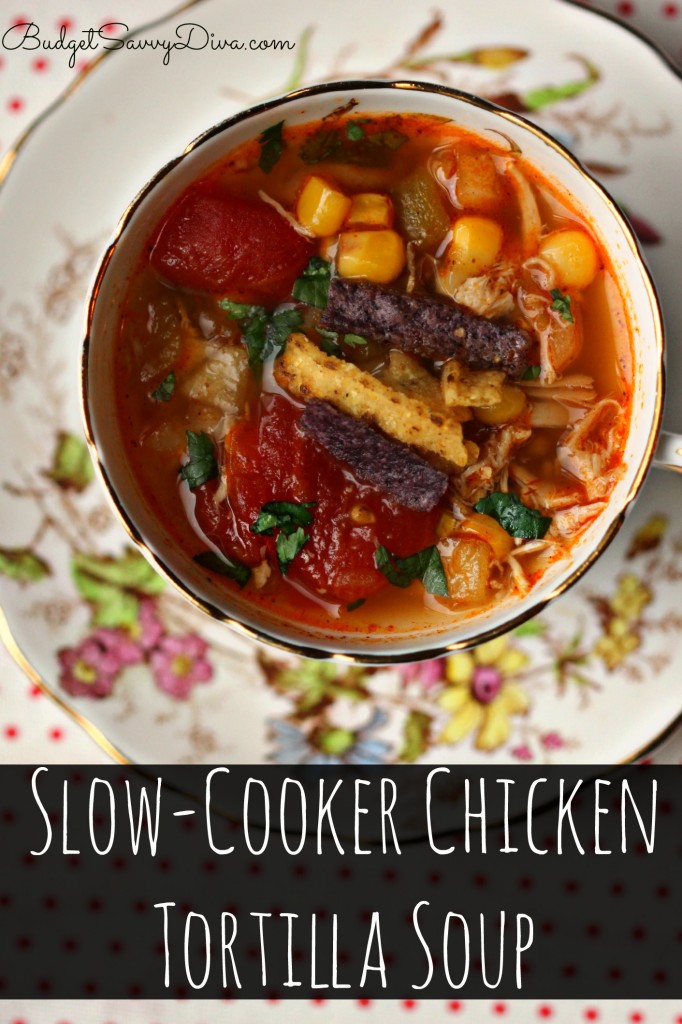 Be AMAZING and please repin this recipe 🙂
Before I get into the Slow-Cooker Chicken Tortilla Soup recipe I have a story to tell you. My dad and I plan recipes about 1 or 2 weeks in advance – lots of calls and emails. We meet sometime during the week and cook.
Well I really wanted to do another soup recipe since I have not made one in a while and it is still pretty cold.
My dad decided he wanted to make his Slow-Cooker Chicken Tortilla Soup recipe
It rocks
well…. I needed a bowl for the soup – I spent about 10 days to find the perfect one. It was like an epic adventure which sadly did not produce a bowl.
I actually found the perfect bowl at my local antique store but it was part of a 42 piece set ( I was so desperate I actually consider buying the whole set ( for like 30 seconds) )
So I decided to use one of my teacups – which I hope looks okay. Seriously this bowl problem for this recipe drove me up the wall
Whew. I am glad I got that off my chest – now on with the recipe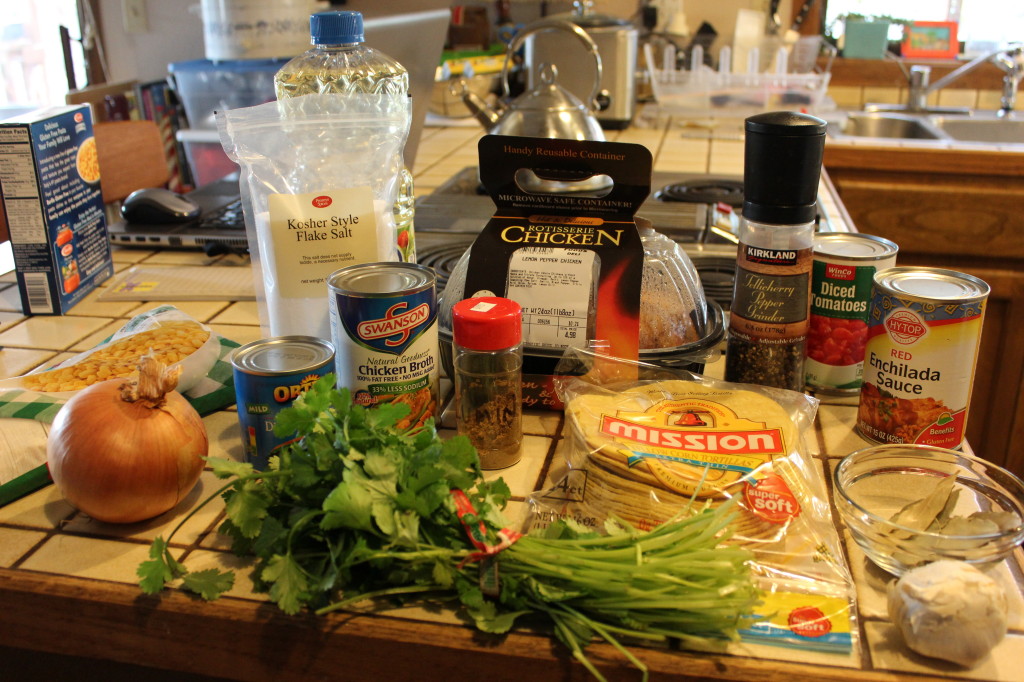 As you can see the soup has a TON of ingredients BUT it is really simple to make – throw everything into the crock pot and wait ( love it!)
This recipe is naturally gluten – free AND naturally lactose free — we have many allergies in my family so I am happy when I can post a recipe which is friendly to many different diets
The recipe makes enough for 4 VERY hungry people or 6 hungry people – it even tastes better the next day
The final cost of the recipe is right at $10 – which is a great price point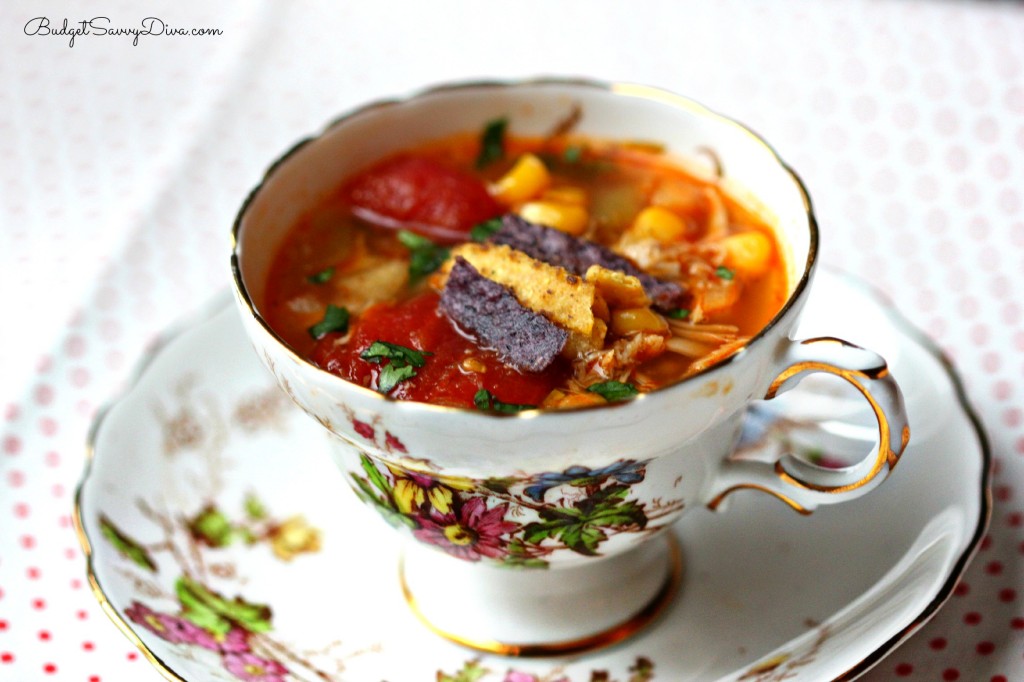 I love the vibrant colors of the soup and the vibrant flavors – if you want a easy soup with tons of flavor ( not too spicy) this recipe is for you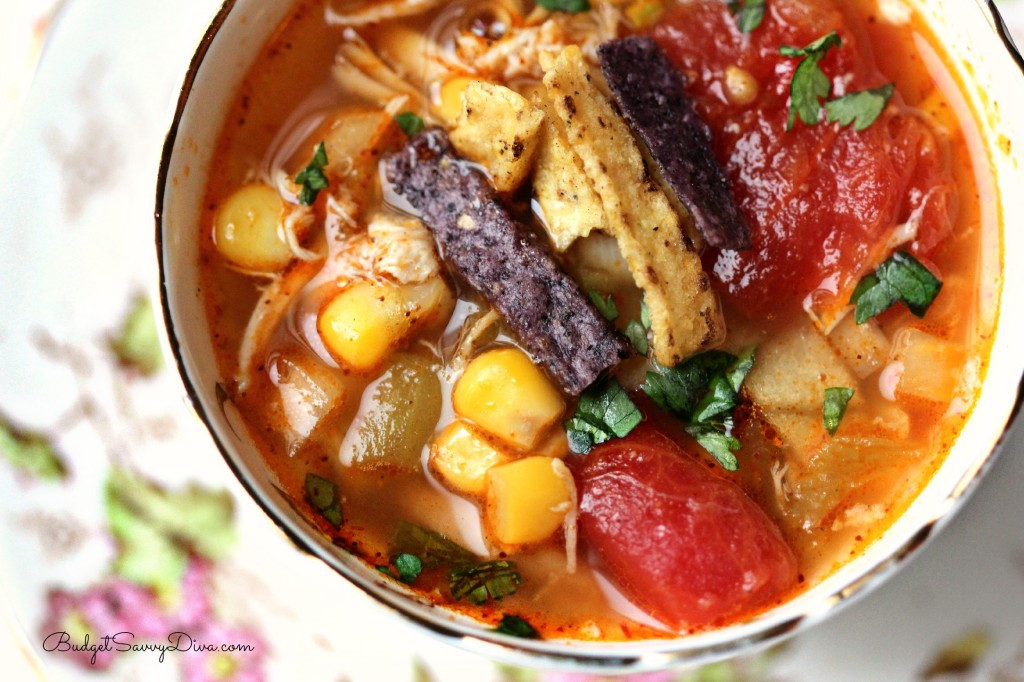 Sigh I wish I had more of this soup to enjoy – it really is lovely 🙂
My dad and I hope you enjoy and make this recipe
Love You Guys!
Slow-Cooker Chicken Tortilla Soup Recipe
Ingredients
3 Cups of Shredded Cooked Chicken
15 ounces of crushed tomatoes
12 ounces of Enchilada Sauce
½ Cup of Onion Chopped
4 ounces of green chili ( can mild)
2 Cups of Water
14.5 ounces of low sodium chicken broth
1 teaspoon of cumin
1 Bay leaf
1 teaspoon of pepper
½ teaspoon of salt
1 teaspoon chili powder
¼ cup of cilantro - chopped finely
1 cup of frozen corn
chip strips of garnish
Instructions
Place all the ingredients into your slow cooker - set it to low for 6 hours or high for 3 -4
Enjoy ( it really is that easy) remember to take out the bay leaf before serving
Recipe is adapted from HERE