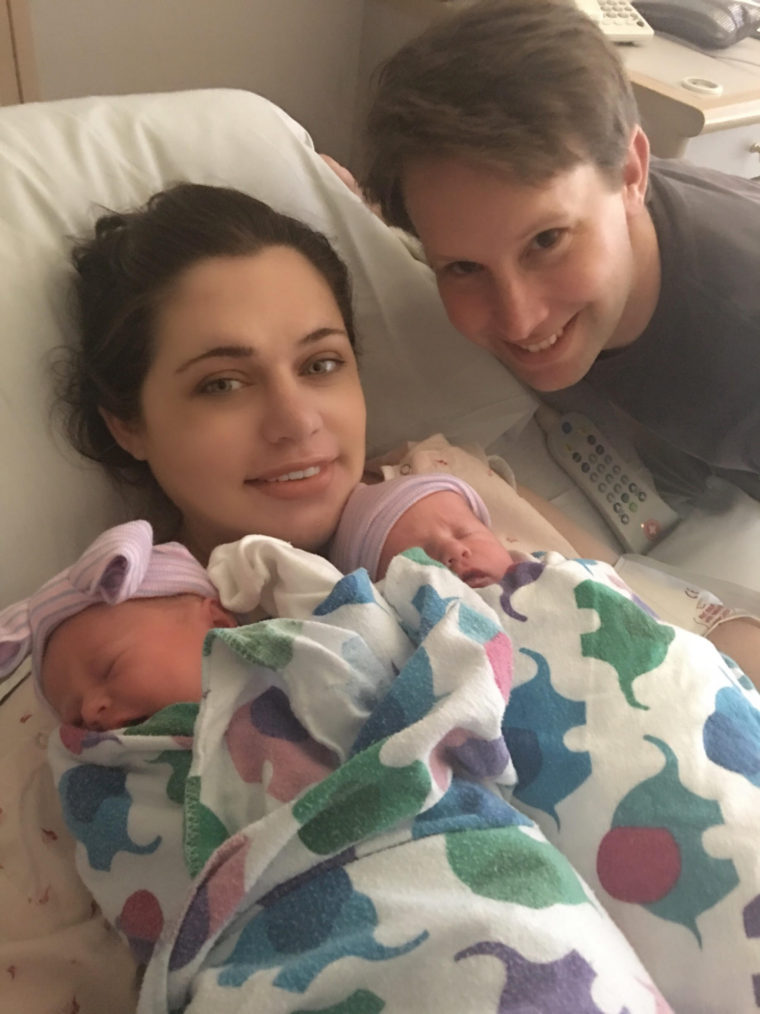 I thought it would be fun to include our first family portrait – which I vaguely remember taking thanks to many pain relievers ( this was right after the c-section)
Many of you have been asking how I am doing. I took today to really think about…. I am doing… somewhat okay — a good 6.8/10.
I will say first off I have amazing newborns — they went on the same schedule pretty quickly ( Lawson had the same feeding schedule at the NICU as we had with Gwendolyn at home). Eric and I are getting about 6 hours of sleep a night broken up in 2 hour chunks. They really do not cry unless there is an apparent reason. So everything with that end of things are great. My parents have been helping out a ton with feeding and cleaning all the clothes.
What I am struggling with is different types of guilt I guess is the best way to put it. I would say the one I did not think about when I was pregnant is when they were here they would be growing so fast. One hand I am so happy that they are gaining weight and growing taller but I am sad to think that they will never been so small ever again. Like the size they are today will not be the same as the size tomorrow. But I do remind myself that there are so many amazing milestones ahead.
I have guilt about my work. I have some BIG NICU bills coming up so I had to really push back into work earlier than I wanted. Guilt again that I am not spending enough time with the twins. I do hold one of the twins at a time while a work.
Guilt about giving the twins enough time. I want to give them as much love as possible each. I find myself wondering if it is enough and am I splitting it equally. Lawson tends to want me to hold him more — so he gets more hold time then Gwendolyn. Also there are days I forget to read them books — am I ruining their development… You see how all this is manifesting itself.
So that is how I am doing… In the good news area I have lost a ton of weight 🙂