Homemade Chicken Nuggets with Barbeque Dipping Sauce Recipe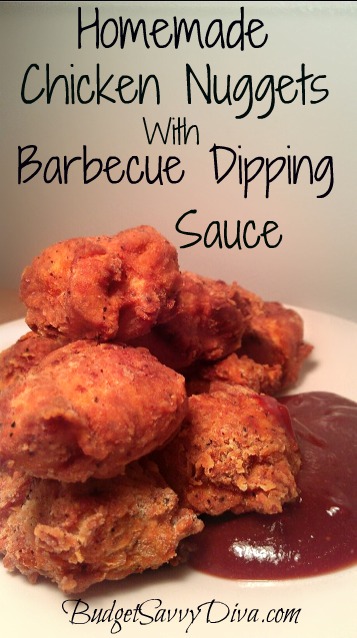 Make sure to PIN This Recipe or Repin 🙂
Everyday at 1 pm PST/ 4pm EST Budget Savvy Diva posts a NEW RECIPE 🙂 I might miss this time every now or then – but I know you understand
Make sure to follow Budget Savvy Diva on Facebook 🙂
Find Copy Cat Restaurant Recipes HERE
Find Crock Pot Recipes HERE
Find Gluten Free Recipes HERE
Find more Recipes HERE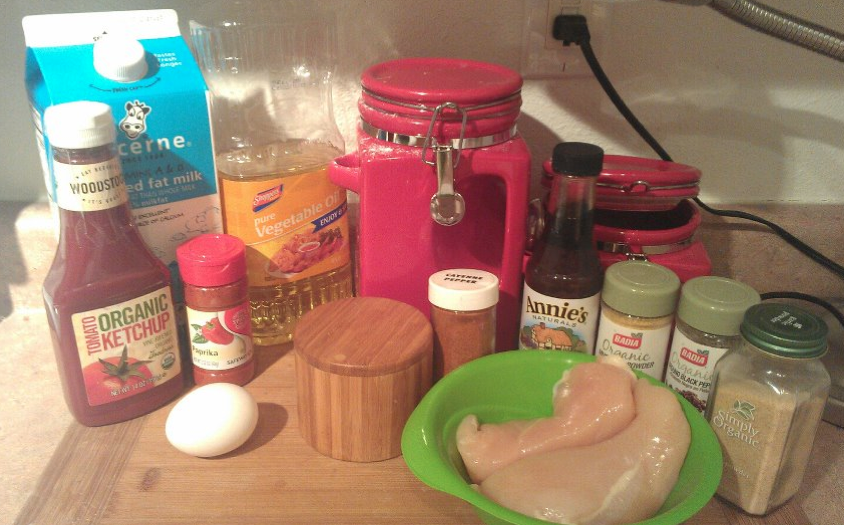 What You Need
Chicken Nuggets –
1 cup all-purpose flour
2 teaspoons salt
1/2 teaspoon black pepper
1/4 teaspoon cayenne pepper
1/2 teaspoon paprika
1 egg
1 cup milk
2 chicken breast fillets – cut into bite size pieces
vegetable oil
For the barbeque dipping sauce
1/3 cup Ketchup
1 Tbsp packed brown sugar
2 tsp worcestershire sauce
1/4 tsp garlic powder
What To Do
In one bowl mix flour and seasonings
In another bowl whisk egg and milk
Take each piece of chicken – first dip into the milk and egg mixture then dip into the flour mixture then dip BACK into the egg mixture then BACK into the flour mixture.
Place the breaded chicken on a plate and chill in the fridge for 15 minutes.
Heat oil ( 350 degrees) – fry chicken. Takes about 5 minutes per piece.
Make the dipping sauce combine all the ingredients.
Enjoy
Homemade Chicken Nuggets with Barbeque Dipping Sauce
Ingredients
Chicken Nuggets -
1 cup all-purpose flour
2 teaspoons salt
½ teaspoon black pepper
¼ teaspoon cayenne pepper
½ teaspoon paprika
1 egg
1 cup milk
2 chicken breast fillets – cut into bite size pieces
vegetable oil
For the barbeque dipping sauce
⅓ cup Ketchup
1 Tbsp packed brown sugar
2 tsp worcestershire sauce
¼ tsp garlic powder
Instructions
In one bowl mix flour and seasonings
In another bowl whisk egg and milk
Take each piece of chicken – first dip into the milk and egg mixture then dip into the flour mixture then dip BACK into the egg mixture then BACK into the flour mixture.
Place the breaded chicken on a plate and chill in the fridge for 15 minutes.
Heat oil ( 350 degrees) – fry chicken. Takes about 5 minutes per piece.
Make the dipping sauce combine all the ingredients.
Enjoy