Cheesy Tater Tot Casserole Recipe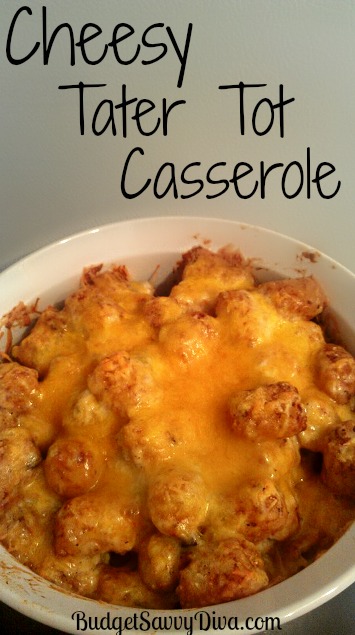 Did you pre-order Budget Savvy Diva's Book Yet ?! Over 40 Recipes
Find out all the details HERE
Make sure to pin the recipe or REPIN IT!
Everyday at 1 pm PST/ 4pm EST Budget Savvy Diva posts a NEW RECIPE 🙂 I might miss this time every now or then – but I know you understand
Make sure to follow Budget Savvy Diva on Facebook 🙂
Find Copy Cat Restaurant Recipes HERE
Find Crock Pot Recipes HERE
Find Gluten Free Recipes HERE
Find more Recipes HERE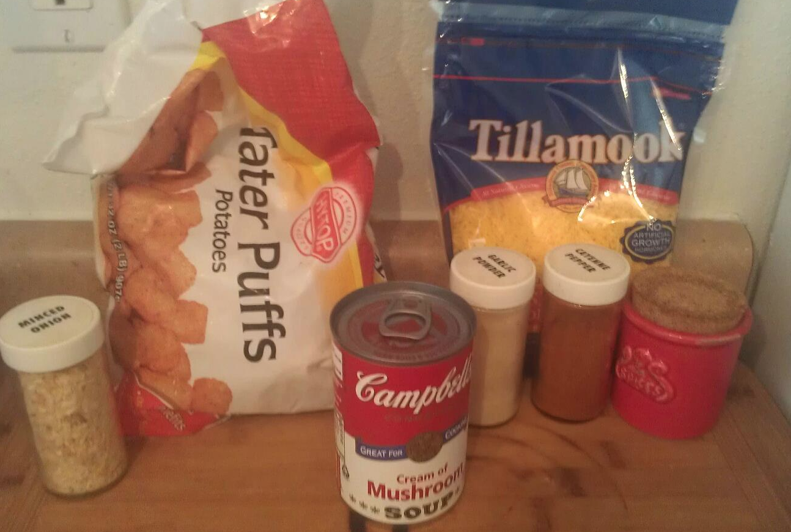 What You Need
32 oz of Frozen Tater Tots
1 Can of Cream of Mushroom Soup Condensed
1/2 Teaspoon of Minced Onions Dried
1/2 Teaspoon of Pepper
1/2 Teaspoon of garlic powder
1.5 Cups of Cheddar Cheese – shredded
What To Do
Preheat the oven to 450
In a large bowl mix all the ingredients except 1/2 cup of cheese
In a lightly greased casserole ( I suggest 8×8 or similar- remember cooking time will depend on what size casserole dish you select)  place the tater tot mixture. Cover with the rest of the cheese. Cover the whole dish with foil and bake for about 30 minutes. Uncover and cook till cheese is melted. Make sure the dish is heated through.
Enjoy
Cheesy Tater Tot Casserole Recipe
Ingredients
32 oz of Frozen Tater Tots
1 Can of Cream of Mushroom Soup Condensed
½ Teaspoon of Minced Onions Dried
½ Teaspoon of Pepper
½ Teaspoon of garlic powder
1.5 Cups of Cheddar Cheese - shredded
Instructions
Preheat the oven to 450
In a large bowl mix all the ingredients except ½ cup of cheese
In a lightly greased casserole ( I suggest 8x8 or similar- remember cooking time will depend on what size casserole dish you select) place the tater tot mixture. Cover with the rest of the cheese. Cover the whole dish with foil and bake for about 30 minutes. Uncover and cook till cheese is melted. Make sure the dish is heated through.
Enjoy